Disclosure: Bonkers About Tech is supported by its readers. When you purchase through links on our site, we may earn an affiliate commission. Thank you.
I'm now the proud owner of the Azulle Access3 mini PC (Amazon, #CommissionsEarned), which was kindly sent to me for review by the guys at Azulle.
I have to say that I've never owned a mini PC before and certainly never considered buying one (that is until now!), largely because laptops, tablets and smart TV's have become so affordable.  But as I look at this device sitting there in the palm of my hand and take a moment to consider that this thing is actually a fully-fledged PC, that I can literally take anywhere, the more I am starting to become a fan. 
I've turned my old 32-inch 720p TV into a smart TV/PC with this little device and I could do exactly the same with a projector or monitor.  In fact, now I'm planning to take this device away with me on my next holiday so I don't have to lug my laptop around and I get to save some space in the car too!  Granted, if I needed to do some software development or play the latest game, then I'd probably opt for my laptop which is a lot more powerful, but for general personal/business use, the Access3 is more than capable.
Over the last few couple of weeks I've been using and testing this device and so this review is my chance to let you guys know how I went on.  So let's have a look in more detail at this device, shall we?
Highlights and Features
Small, compact design – easily small enough to fit into your pocket
Windows 10 Pro pre-installed
Excellent connectivity
One of the most powerful stick PCs out there
Micro SD slot up to 256GB
My Verdict
Basically, if you're looking for miniature PC that you can take with you anywhere, then the Azulle Access3 is the best on the market at the moment in terms of specs, connectivity and ease of use.
What's in the box?
Access3
Power adapter
HDMI adapter cable
Quick instruction guide
What is a Stick PC and do I need one?
Okay, let's get this one out of the way first and address whether you NEED one or not.
A stick PC, if you haven't worked it out yet, is a 'stick', like a USB stick, but much more capable.  Essentially it's a PC that you plug into a HDMI port (be it a TV, monitor or a projector etc) yet small enough to fit into your pocket or rucksack (think Firestick (Amazon, #CommissionsEarned) or ChromeCast but much faster and much more capable).
Stick PCs have been out for a while but only really started to become popular when Intel released their Compute Stick in 2015.  Up to now, Intel needn't have worried about the competition, but the Access3 breaks that mould and has managed to offer a stick with better performance at a competitive price, which is pretty impressive.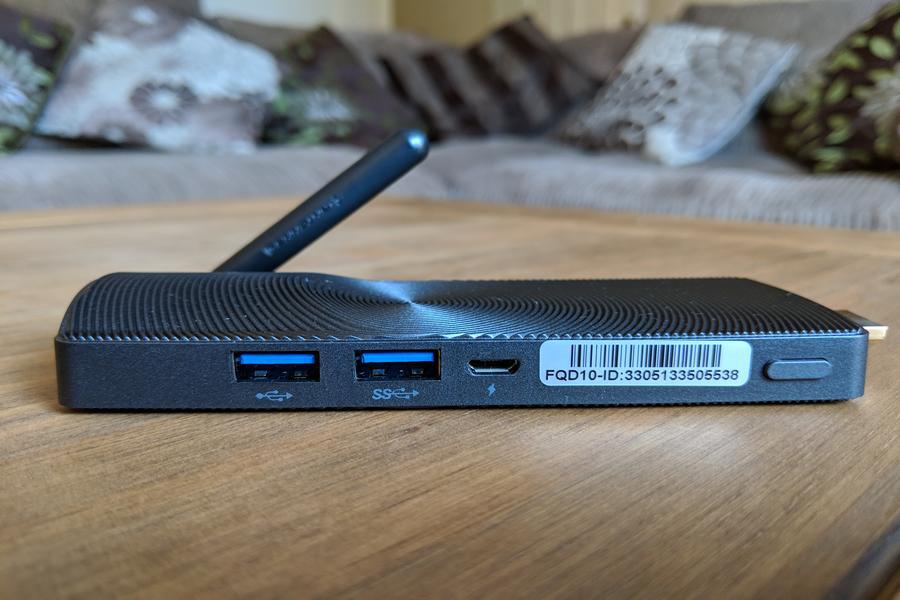 It's easy to see why IT guys would find a use for a stick PC because it elevates the need to carry a work laptop around whenever they're on the go, but what about the average consumer?  Well, this device is perfect for use as a media server whereby you can stream your favorite movies to your TV.  You can also use it to stream on-demand stuff such as Netflix, Amazon Prime (Amazon, #CommissionsEarned) or your favorite show on the BBC iPlayer.
The Access3 can do pretty much anything a regular PC can do. Think of it is as a tiny desktop PC, which conveniently plugs into the back of your TV/monitor but without the extra bulk.
Design and Build Quality
The Access3 looks pretty good, I have to say.  It has quite a sleek design with a textured swirly pattern on the top and bottom.  Size-wise, it is probably about twice the width of an Amazon Firestick if you're familiar with those and about a third longer, but it is still small and compact enough to fit into your pocket quite easily. 
In terms of exact dimensions, the device measures 5.2 x 2 x 0.75 inches and weighs just 5.12 ounces, which is incredible considering we're talking about a fully-fledged computer.  One thing this device does have though, is an external antenna, which adds a little to its width.  This is different from competitor devices such as the Intel Compute Stick and the Lenovo IdeaCentre Stick 300 which have integrated antennas.  Although, I'm pretty certain that the external antenna greatly boosts WiFi connectivity.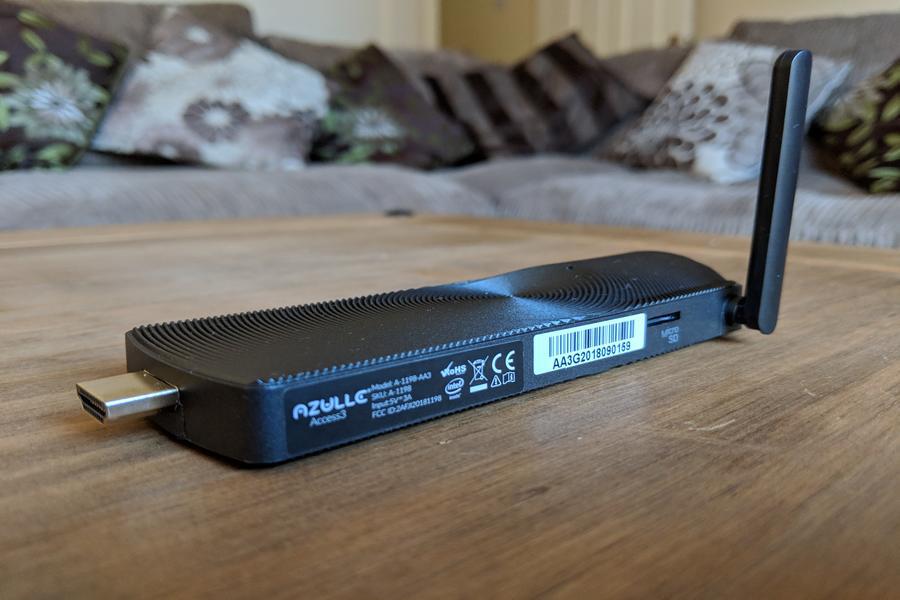 In terms of features, like most stick PCs, you have a HDMI connector so that you can use the stick on any device that has a HDMI port.  On one side of the stick you have a power button, a micro-USB port which is used to provide power to the PC and two USB 3.0 ports.  On the other side is a micro-SD slot which will support up to a 256GB SD card.  On the back of the device you'll notice from my images, that it is slightly raised up – this is so that the device can accommodate a full-sized Ethernet port.  This is quite a nice feature as it allows you to use the device where there aren't any WiFi access points.  You can also take advantage of the extra bandwidth and more reliable connections that using an Ethernet cable has to offer.
In addition to the Ethernet port, you'll also find a 3.5-millimeter audio jack for headphones or speakers and a Kensington lock slot.
Performance
Out of the box performance for the Access3 is pretty good.  In the version I tested, you have a Gemini Lake N4100 CPU with 4GB RAM and 32GB of storage.  This is very respectable for a pocket PC, but there could be more storage here.  Although, there's 32GB SSD on the device, Windows reports 28GB of total space, but 18GB has been allocated for the Windows 10 installation, which leaves me with about 11GB – in other words, not much space for anything else.  There is however an option to plug in an SD-card up to 256GB, so this is not a show stopper by any means.
If you're using this device for general browsing, streaming or business presentations and the like, then you'll find that the performance is more than adequate.  I opened about 20 Chrome tabs, many of which were streaming YouTube videos or the BBC iPlayer and I had no problems whatsoever when switching between tabs.  The individual tabs loaded quickly too, so no problems there.
I'm not really a gamer, so I didn't try any games, though PC sticks in general are not really designed for them as they don't have the raw processing power or or a GPU comparable with that of a desktop or laptop.  I did however stream a few movies on Amazon Prime and was able to do this without any problems.  The only thing I didn't try was 4K streaming as I don't currently have a 4K TV :(, but at 1080p, the Access 3 performed very well.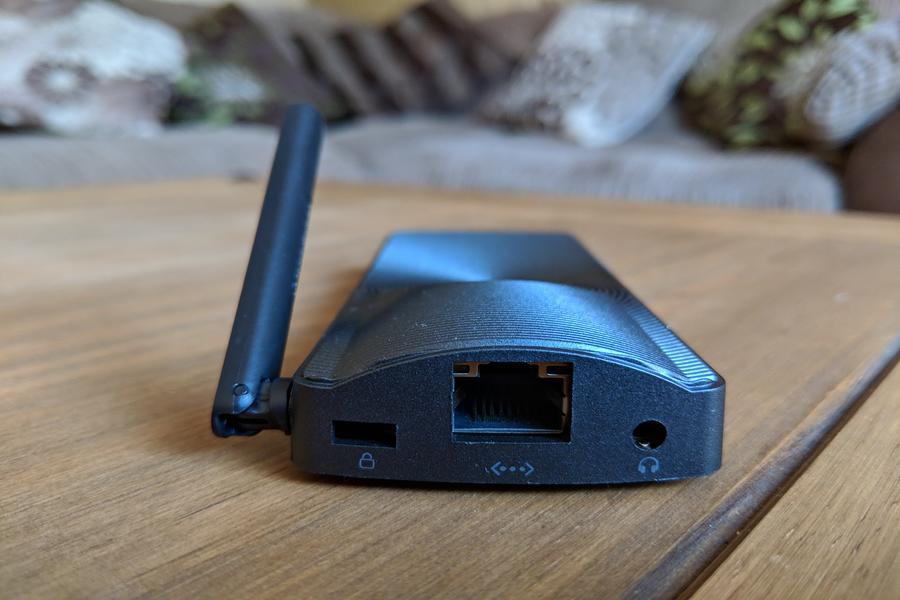 Connectivity
I must admit that when I first took delivery of this device, I wasn't aware of its connectivity options, but it does have plenty to offer.  As mentioned previously, you have a HDMI plug which plugs into any HDMI port, a 3.5-millimeter audio jack for headphones or speakers, a Kensington lock slot and a micro-SD slot which will support up to a 256GB SD card.
Perhaps most importantly though are the two USB 3.0 ports on the side of the device.  Typically you'd plug a mouse and keyboard into these but I found this to be a little cumbersome in my living room, so I opted to use the Chrome Remote Desktop app on Android instead.  I also used the Universal Remote app to control the mouse and keyboard.  Both of these apps work perfectly.
If you prefer, Azulle actually offer a physical remote which is available on Amazon (#CommissionsEarned) or direct from their website (plus a number of other different accessories).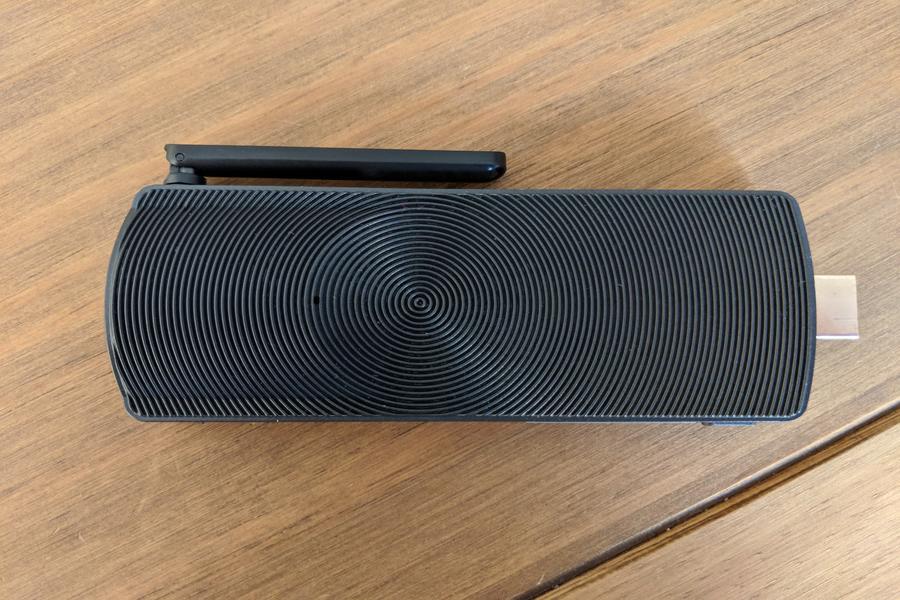 Technical Details and Specs
| Processor | Operating System | BIOS | RAM | Storage | GPU | WIFI | Ethernet | Bluetooth | HD Output | USB | Micro SD Slot | Audio Output | Power Supply | Dimensions |
| --- | --- | --- | --- | --- | --- | --- | --- | --- | --- | --- | --- | --- | --- | --- |
| Intel Gemini Lake N4100 Quad-Core | Windows 10 Pro/Windows 10 IoT Enterprise | Wake Up on LAN/PXE/Auto Power ON | 4GB | 32GB/64GB | Intel HD Graphic 600 12EU | Dual Band 2.4GHz/5GHz | 1 Gigabit | Bluetooth 4.2 | HDMI 2.0 4K @ 60fps | USB 3.0 x2 | Up to 256GB | 3.5mm Jack | 5V/3A | 5.2 x 2 x 0.75 inches |
The Downsides
As I mentioned previously, the device has a swirly pattern on the top and bottom of the device.  This acts as the computer's heat sink because it is fan-less.  I found that initially the temperature of the device was okay, but I did notice that over time, that the temperature of the device began to increase.  So I would let the computer cool down for a bit before packing it away, especially if you've been using the device for more than an hour or two.
Other than the heat that this device generates and the low storage space, I can't really find much fault with this device.  The device performs well and looks good, although it would be nice if the antenna was integrated somewhat into the device.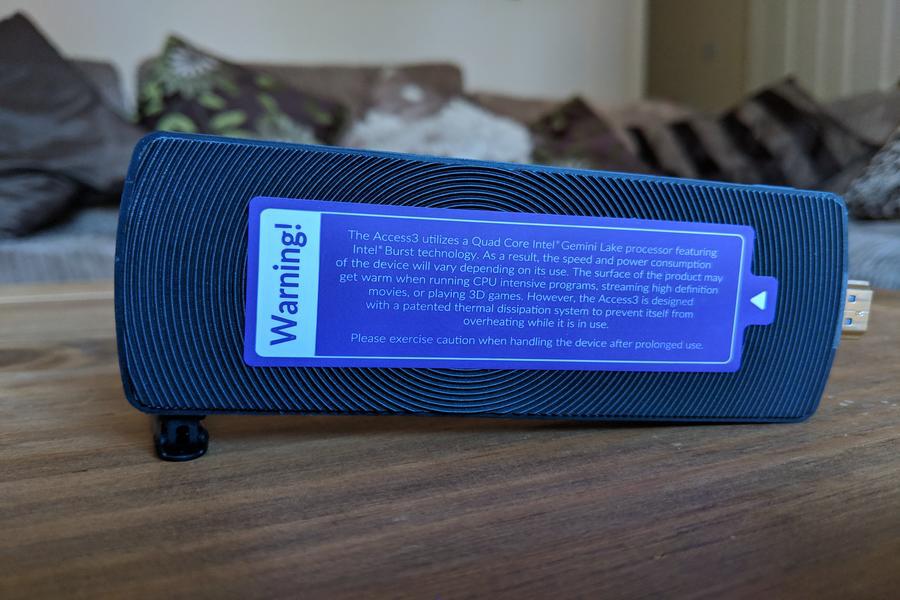 Should you buy the Azulle Access 3? – Bottom line
In short – yes.  The Azulle Access3 is a fully-fledged computer that performs well and delivers 4K graphics.  All this is packed into a little stick that will quite easily fit into your pocket.  It has lots of connectivity options including two USB 3.0 ports, an Ethernet port and a headphone jack and it's priced well too at just under $200 on Amazon (at the time of writing).  So, if you're looking for a small and portable PC that you'd like to carry with you on your travels, then the Azulle Access3 would be an excellent choice.
You can purchase the Azulle Access3 on Amazon (#CommissionsEarned) or directly from Azulle here.