Disclosure: Bonkers About Tech is supported by its readers. When you purchase through links on our site, we may earn an affiliate commission. Thank you.
Hey guys, I've recently been sent a pair of headphones to review by a brand called BlitzWolf.  I must admit that I'd never heard of them before, but the name sounded kinda cool so I thought I'd give them a fair review.
The headphones I'm reviewing here is the BlitzWolf BW-HP1 model, which is available on Amazon.co.uk here (#CommissionsEarned) if you want to cut straight to the chase.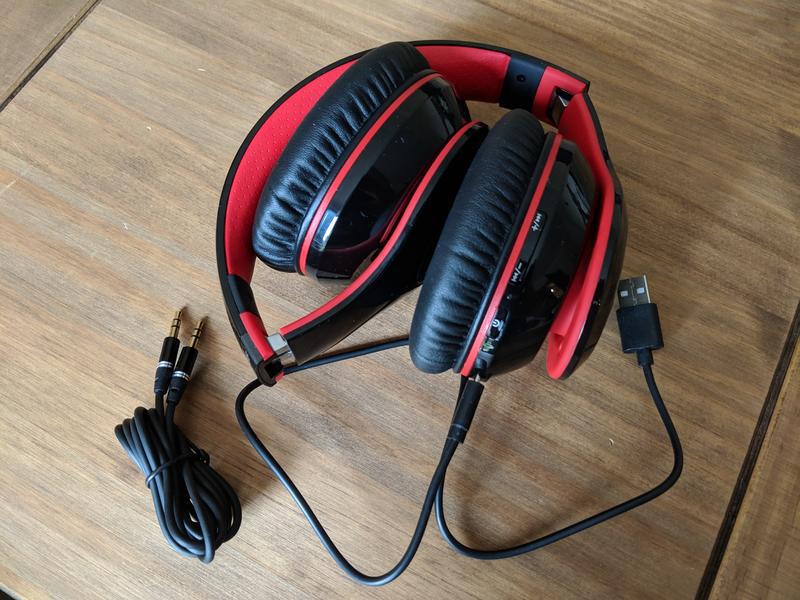 The HP1 model isn't exactly an audiophile piece of kit, but they're not designed to be either.  They are a budget set of headphones designed for those who just want something that is easy to use, comfortable to wear and basically does the job.
So how do these headphones stack up?  Are they worth getting?  Well, in the rest of this post, I try to answer these questions to help you decide if they're right for you.
Highlights and Features
Solid, compact design
Bluetooth 4.1 – connect two devices at a time
Extremely comfy
Hands-free phone calling
Voice prompt
My Verdict
Basically, if you're looking for some half-decent Bluetooth headphones for a decent price, then the Blitzwolf HP1 might be just what you're looking for. They aren't amazing, but they are easy to use, the sound is well balanced and will suit most consumers.
What's in the box?
BlitzWolf HP1 Bluetooth Headphones
USB Charging Cable
3.5mm Audio Cable
User Manual
There are a few things that I personally consider when buying a budget set of headphones, some of which I consider more important than others.
One of the first things I consider is comfort. In other words, if I were to wear a set of headphones for a longish period of time, would they still feel comfortable at the end?
Are they comfy to wear?
When I first put on HP1s, the first thing I noticed was how comfy and cushiony they felt (is that actually a word?).  They do actually feel like you have a soft cushion on each ear.  Each of the cans are actually oval shaped which I think adds to the comfort.
I've had the HP1s on for a good few hours now whilst working on my site and writing this review and although they still feel comfy they do feel slightly heav, which I guess is down to the metal inside of the headband.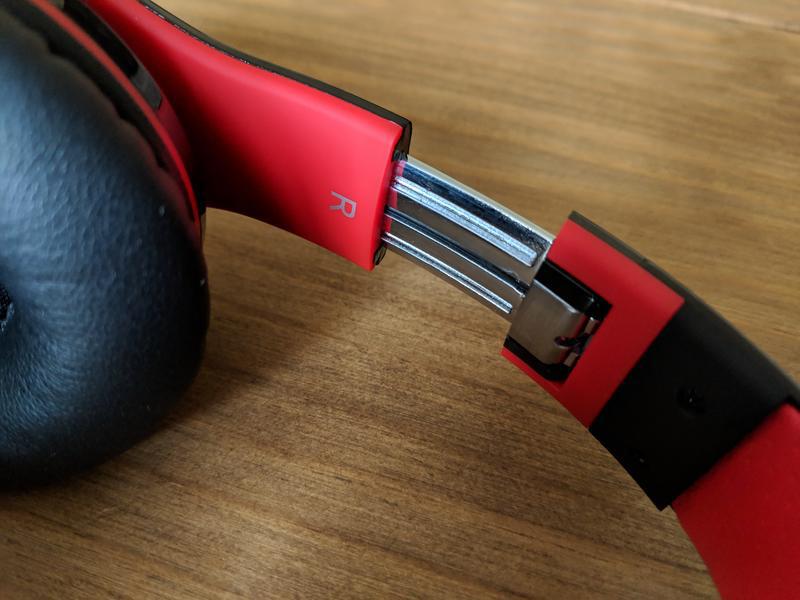 What do they sound like?
For a budget set of headphones, they sound pretty good and they sound infinitely better my Sony folding headphones (Amazon, #CommissionsEarned).
As a comparison, the BW-HP1 offers audio quality that is on par with headphones around the $100 mark.  And this includes some of the big brands too.  
But if it is amazing audio quality that you're after, then you're probably going to be disappointed and you're better off opting for something like these Sony Noise Cancelling Headphones (Amazon, #CommissionsEarned).
I say this because the bass is a bit lacking for me and it lacks Active Noise Cancellation (ANC).  The cans pretty much cover my ears which helps a little to cancel out external noise, but it is far from perfect.
What I will say though is that the audio is very well-balanced and neither the mids, highs or lows stand out. 
As such, these headphones  are good enough to satisfy the vast majority of consumers out there but they are most definitely not audiophile quality headphones.  But, whether you're into music, gaming or simply watching a movie, they will be good enough.  The built-in microphone works pretty good too, so you can enjoy hands-free calls, again though, just to set expectations, the quality is far from amazing.
So there are some flaws here and there, but they are what you would call budget headphones and that's what they're designed to be.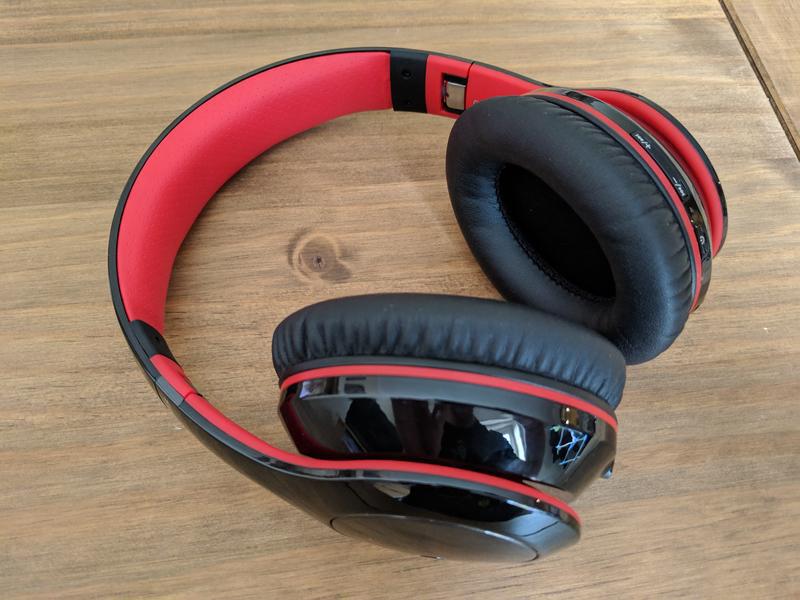 Build quality
In terms of build quality, the HP1s feel pretty solid when you pick them up, but if anything, I'd prefer them to be a bit more lightweight.
The HP1s are foldable, so they do look compact when folded up, but when I tried to fit them into my pocket, I found them to be a bit of a squeeze.
In terms of the design, the HP1's have an adjustable headband, which is made of metal encased in shiny, piano black plastic.  
If you look at the more expensive headphones from the big names, such as these Sony Noise Cancelling Headphones (Amazon, #CommissionsEarned) for example, you'll notice a lot of them have a matte finish which makes them look and feel more premium.
Personally I think the shiny plastic detracts from the overall finish of these headphones and makes them feel a little cheap.
That being said, this is a personal preference and others may prefer this design.
One thing I do like though is the contrasting red material that is present on the inside of the headband and the small accents of red around each of the cans.  I think this goes really well with the black and gives the headphones a cool, sleek, gaming type look to them.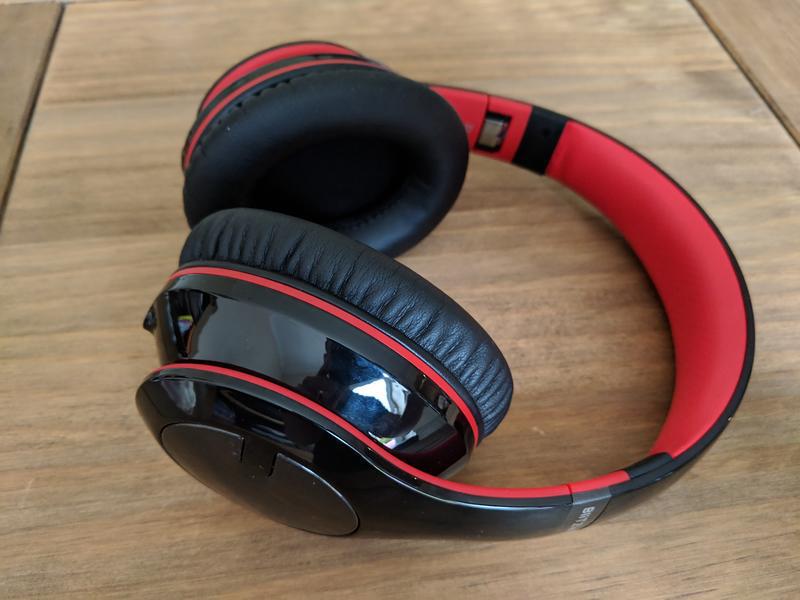 Features and Connectivity
In terms of features, there's the obvious Bluetooth connectivity – no problems pairing by the way, you just simply long press the power button for two seconds to switch on and hold for a further two seconds to enter into pairing mode.
There is also an LED indicator which flash red and blue alternately to indicate you have entered into pairing mode.
One additional feature which I do like is the ability to pair with two Bluetooth devices.  So you could pair with your smartphone and your laptop for example and take calls without having to remove your headphones.  That way, you can carry on listening to your music after the call.
If you choose not to use Bluetooth, then you can use the 3.5mm jack (provided) to connect to an audio output device such as your smartphone, PC etc.
The HP1 also has a built-in microphone so you can take calls on the go.  Answering calls is as simple as pressing the power button and to end calls, you press the power button again.  The quality isn't amazing here, but more than adequate enough to be able to hold a decent conversation.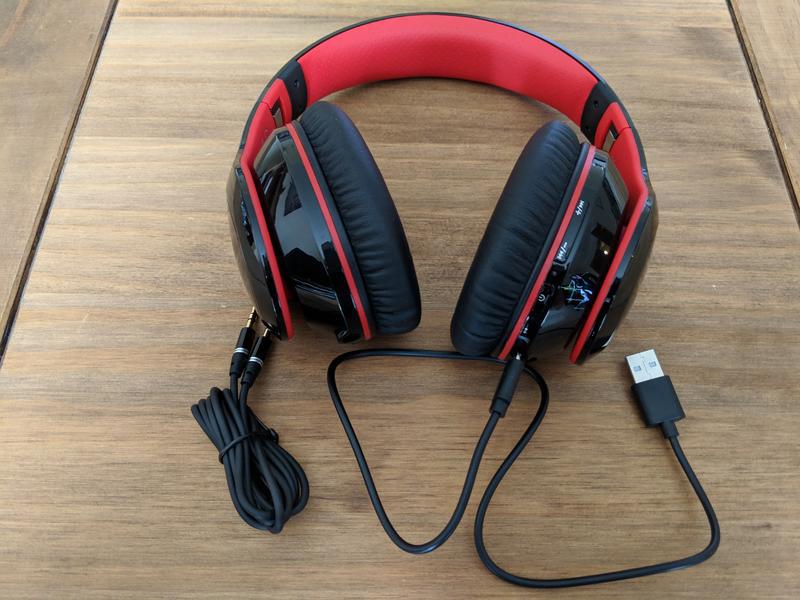 In terms of physical buttons, you can press the power button to play/pause your music and your music will automatically pause during phone calls which is a welcome feature.
The remaining two buttons each have dual functionality.  The button with the plus symbol enables you to increase volume and skip to the next track and similarly, the button with the minus symbol enables you to decrease the volume or skip to the previous track.
Finally, the HP1 has a voice assistant!  Well, kind of.  By double pressing the power button, you can wake up the voice assistant which will either wake up Google Assistant on your Android device or Cortana on a Windows 10 PC.  I haven't tried it with an iPhone as I don't own one, but I suspect it will open Siri.
Should you buy them?
Basically, the sound quality is good, the design is solid and they are super easy to use. 
There are some downfalls, like with all products, but BlitzWolf have actually come up with some Bluetooth headphones that provide reasonable quality sound for a reasonable price and therefore, I think they will please most people, except for the most discerning of audiophiles of course.
The BlitzWolf BW-HP1 can be purchased from Amazon.co.uk (#CommissionsEarned) or direct from Banggood.