Disclosure: Bonkers About Tech is supported by its readers. When you purchase through links on our site, we may earn an affiliate commission. Thank you.
Having previously reviewed the pocked sized Azulle Access3, this time it's the turn of its bigger brother – the Byte3 (Amazon, #CommissionsEarned) from US based manufacturer Azulle.
The Byte3 is another example of a mini fan-less PC and although it's much larger than the Access3, it's still very portable (about the size of a small lunch box) and could quite easily fit into your rucksack.  However, despite its small size, this is a fully-fledged PC that you can connect to your TV and can serve as either a media center or as a general computing device.
Like the Access3 that I tested a few weeks ago, you do have to bring your own monitor/TV, mouse and keyboard, but once connected, this little black box powers a Windows 10 64-bit desktop and provides good performance.
So without further ado, let's look at the device in a bit more detail and look at what it is capable of and what (and who) it can be used for.
Highlights and Features
Small, compact design – about the size of a small lunch box
Windows 10 Pro pre-installed
Excellent connectivity (abundance of ports)
Micro SD slot up to 256GB
IR Remote provided
My Verdict
The Byte3 is an awesome PC that performs well and for around $200 (at the time of writing) the price is great too. Great for use as a media server or for general browsing.
My Verdict
The Byte3 is an awesome PC that performs well and for around $200 (at the time of writing) the price is great too. Great for use as a media server or for general browsing.
Performs well
Additional storage options
Plenty of ports to connect your gadgets
Limited functionality with IR remote
Antenna could be integrated better
What's in the box?
Byte3
Power adapter 12V/2A
Quick instruction guide
IR Remote
What is it and who's it for?
So, the Azulle Byte3 is basically a mini desktop PC that's small enough to fit into the palm of your hand.  All you have to do, as the consumer, is supply your own TV or monitor and a mouse and keyboard and your set.
The Byte3 does come with a small remote so that you can control it to a certain extent without having to plug in external devices, but functionality is limited as you don't get a full keyboard.  So when you through the initial Windows 10 setup (when you first boot up the device), you'll need to use a keyboard and mouse.  It's also recommended to use a keyboard and mouse if you want to take full advantage of what Windows 10 Pro has to offer. 
That said, you could install all the applications you want on there and then ditch the keyboard and mouse once you have it all setup.  In fact, if you plan to use it as a media center and install Plex on it for example, then you won't need a keyboard and mouse and the remote will be more than adequate.
Whilst we're on the subject of remotes, Azulle do actually offer an additional, more advanced remote which is available on Amazon (#CommissionsEarned) or direct from their website (plus a number of other different accessories).  Azulle were kind enough to send me one of these remotes and I have to say it is considerably better than the remote which was provided because you get a full qwerty keyboard and an emulated mouse pointer built in.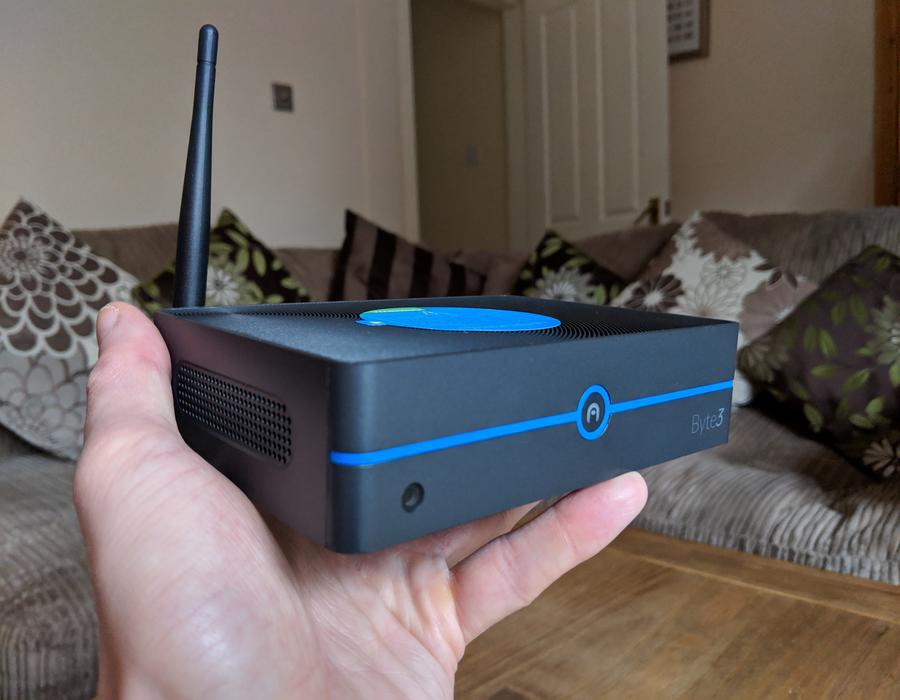 So, that's 'what it is', so who's the target audience I hear you ask.  Well as I've already mentioned this is a general computing device.  It can be used by anyone that wants to use it to browse the web and you can stream movies and TV shows through Plex.  You can also use it to stream on-demand stuff such as Netflix, Amazon Prime (Amazon, #CommissionsEarned) YouTube or your favorite show on the BBC iPlayer.
If you want something that runs Windows but you don't want to shell out a fortune for something more powerful, then the Byte3 definitely fits the bill.  But if all you want to do is watch YouTube for example, you might be better off getting a Chromecast.  Also, if you just want to browse the web, then you might be better suited to getting a Tablet.
Equally, if you're planning on doing any serious video editing, or using Photoshop or doing any serious gaming, then you'll probably want to buy a machine that's designed for those tasks.
The bottom line is – consider your use-case.  The Byte3 is a great device and can do pretty much anything a regular PC can do. Think of it is as a tiny desktop PC, which conveniently plugs into the back of your TV/monitor but without the extra bulk.
Design and Build Quality
In terms of aesthetics, the Byte3 looks pretty good, I have to say.  It feels pretty solid too and has quite a sleek, low profile design, with a textured (if slightly mesmerizing!) swirly pattern on the top. 
What I particular like about this device is the blue plastic strip on the front of the device which extends around the middle.  This looks great when the device is powered on as you get a futuristic fluorescent blue glow, which in my opinion, gives the device a distinctive look and certainly pushes the product design ahead of its competition.
In addition to the Blue light strip, the power button in the middle glows up too – red or blue depending on whether the device is powered on or off!  This looks incredible on my TV stand I have to say!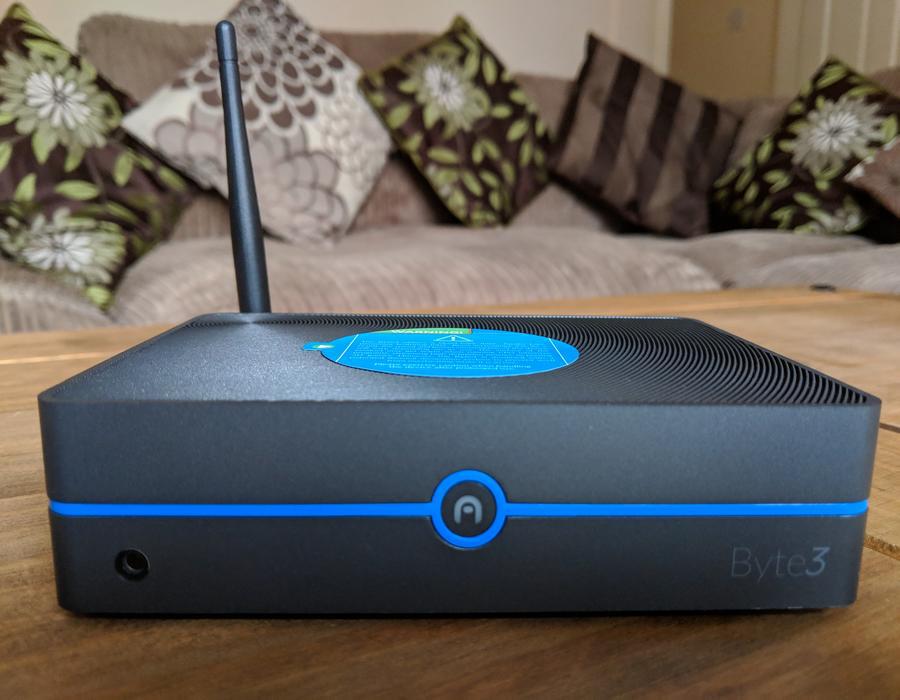 In terms of dimensions, the device measures 5.6 x 4 x 1.5 inches and weighs just 1.12 pounds, which is incredible considering we're talking about a fully-fledged computer.
The one thing for me that does detract a little from its design, is the external WiFi antenna.  When fully extended, it could potentially obscure a screen depending on where it's positioned.  However, if placed on a shelf below a TV, you may or may not have the height to be able to extend it fully.  But what the antenna does give you however is excellent WiFi connectivity and really helps to boost the signal.
But, if at all possible, I encourage you to use a wired Ethernet connection, especially when streaming things.  Using a wired connection frees up the bandwidth for devices that need it like Tablets, Phones and so on and thankfully the Byte3 includes a Gigabit Ethernet port to allow you to do this.
Features and Connectivity
In terms of features and external connectivity, there are many options here.  The model that I tested features a Quad-core Intel Apollo Lake J3455 CPU, Intel HD 500 graphics and 4GB of RAM.
In terms of connectivity, there are three USB 3.0 ports, one USB 2.0 port and one USB-C port.  You also get a 3.5-millimeter audio jack for headphones or speakers, a Kensington lock (Amazon, #CommissionsEarned) slot and Bluetooth 4.2 is provided so that you can stream music to any Bluetooth speakers (Amazon, #CommissionsEarned) that you may have.
To connect the device to the Internet, you can either use the Dual Band 2.4 GHz/5.0 GHz WiFi or the 1 Gigabit Ethernet port.
To connect a display, you have two options – either HDMI or VGA, though do have to supply your own cables.
Now you only get 32GB of eMMC storage on this device, which isn't a lot, but with a plethora of storage options available on this device, such as an SD card slot with support for SD-cards up to 256GB (Amazon, #CommissionsEarned) and an M.2 SSD slot, this is not a show stopper by any means.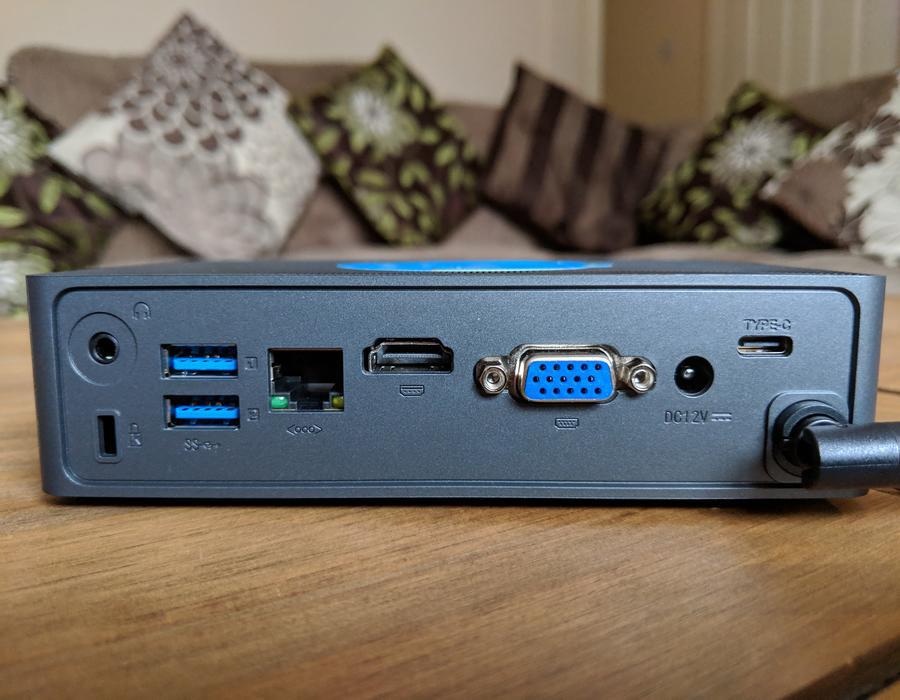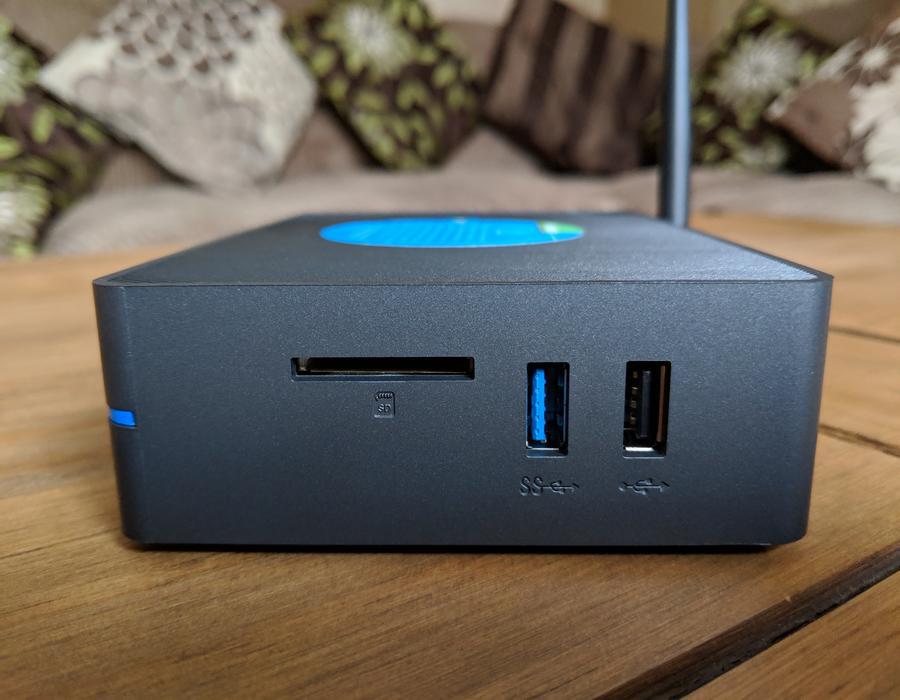 IR Remote
The Byte3 comes bundled with an IR remote, as I mentioned previously.  To setup Windows 10 etc you'll definitely need a keyboard and a mouse.  I also found that I needed a mouse and keyboard to sign into Windows 10, as I found using the remote particularly cumbersome and it didn't seem to play well with much of the UI.
However, once you have your apps and your media player software installed, you could ditch them in favour of the remote.
But, the remote isn't perfect.  It doesn't have the ability to emulate a mouse and it just has the D-Pad and a few other buttons such as volume up and down, a mute button, a tab button and a hamburger button which you can use to activate the start menu.
I think the remote is fine as a media remote, but it certainly isn't up to the job of browsing the Internet for example.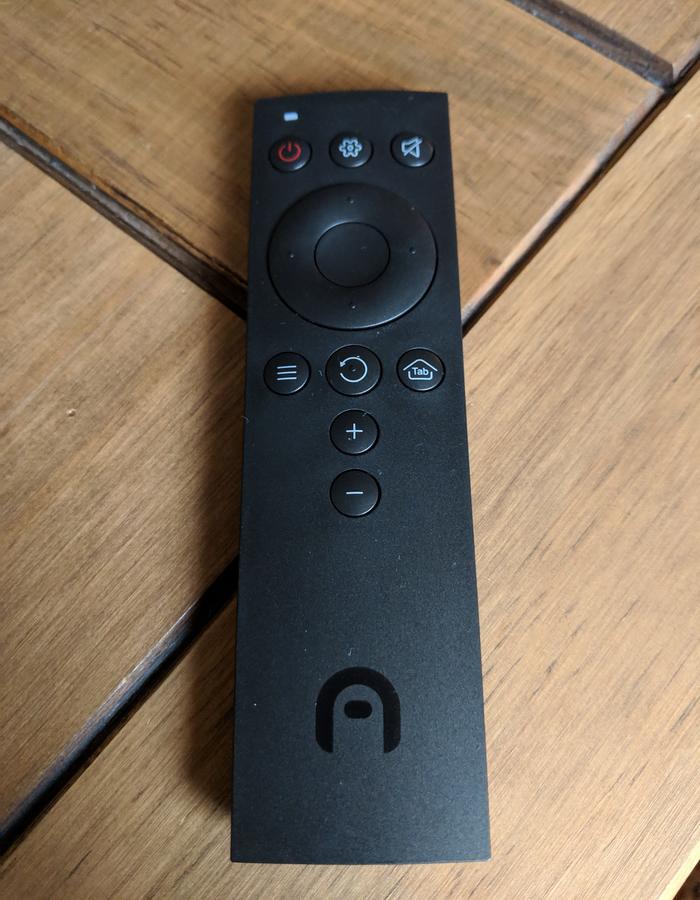 Performance/User Experience
Out of the box performance for the Byte3 I felt was pretty good, though I decided to look at some of the numbers on GeekBench to see how it stacked up in terms of raw performance.
In the version I tested, i.e. a Quad-core Intel Apollo Lake J3455 CPU with 4GB RAM, there was a score of 1449 for the single core test, 4253 for the multi-core test and a score of 8417 for the GPU test.  These are very respectable values.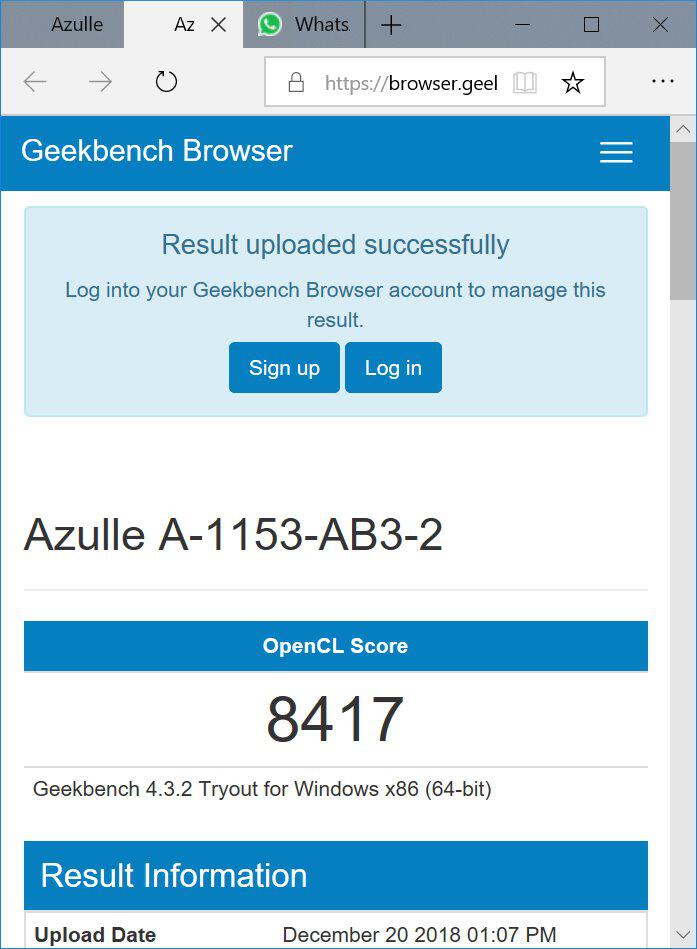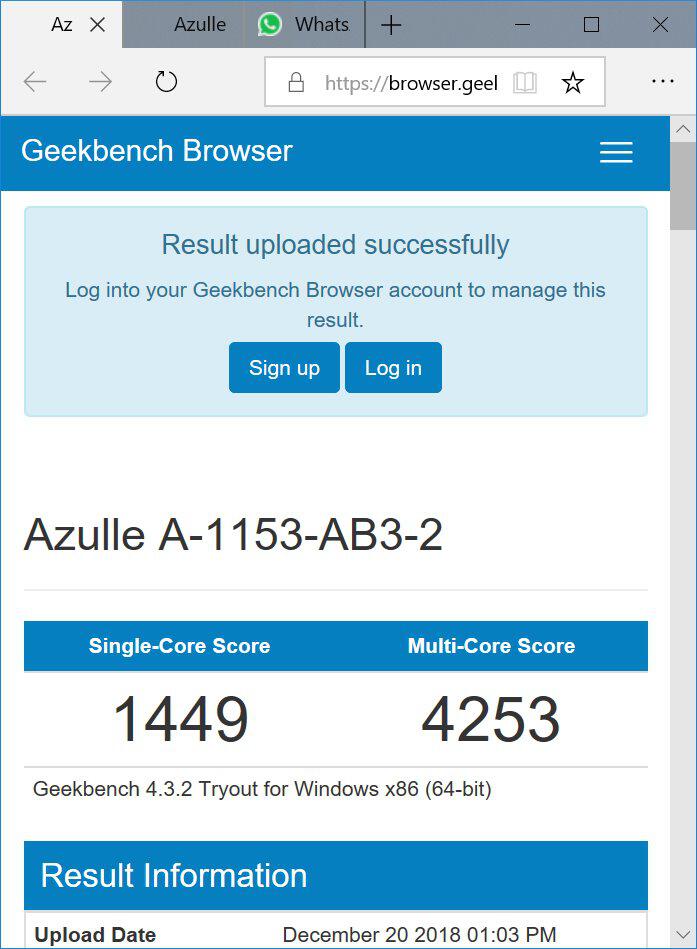 In terms of actual user experience then, if you're using this device for general browsing, streaming or business presentations and the like, then you'll find that the performance is spot on.  I opened about 20 Chrome tabs, many of which were streaming YouTube videos or the BBC iPlayer and I had no problems whatsoever when switching between tabs.  The individual tabs loaded quickly too, so no problems there.
I'm not really a gamer, so I didn't try any games and the Byte3 is not really designed for gaming as it don't have the raw processing power or GPU graphics that can match that a desktop or laptop.  I did however stream a few movies on Amazon Prime and was able to do this without any problems.  The only thing I didn't try was 4K streaming as I don't currently have a 4K TV :(, but at 1080p, the Byte3 performed very well.
One thing that I did notice was how quickly the device booted up into Windows – it took just over 20 seconds to get to the Windows 10 sign-in screen!
Oh and one more thing, the device is ultra quiet 🙂
Technical Details and Specs
Processor
Operating System
BIOS
RAM
Storage
GPU
WIFI
Ethernet
Bluetooth
Video Output
USB
External Storage
Audio Output
Power Supply
Intel Apollo Lake J3455 Quad-Core
Windows 10 Pro
Wake Up on LAN/PXE/BIOS Reset
4GB
32GB eMMC
Intel HD Graphic 500
Dual Band 2.4GHz/5GHz
1 Gigabit
Bluetooth 4.2

HDMI 2.0 4K @ 60fps

VGA Port x1

USB 3.0 x3, 2.0 x1, Type-C x1
Up to 256GB SD, M.2 Slot
3.5mm Jack
12V/2A
The Downsides
As I mentioned previously, the device has a swirly pattern on the top of the device.  This acts as the computer's heat sink because it is fan-less.  I found that initially the temperature of the device was okay, but when I was using the device for a bit, the temperature of the device began to increase.  Thankfully, it didn't increase to the point where it was hot to touch – just slightly warm.  I found it to run cooler than the Access3, which makes sense, as the heatsink on the Byte3 has a much larger surface area.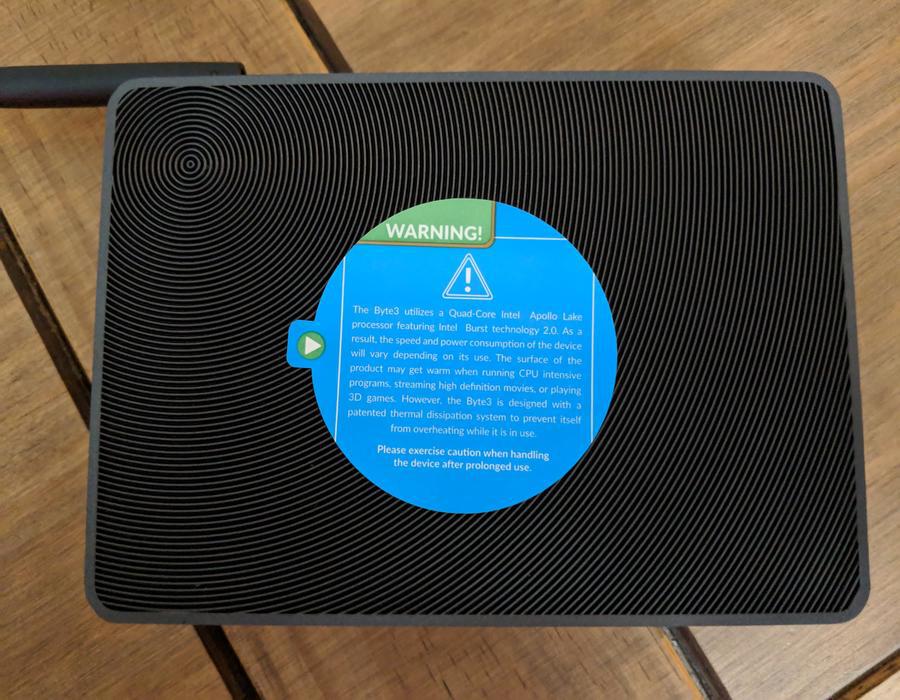 Other than the heat that this device generates and the low storage space, I can't really find much fault with this device.  Granted the remote could be a lot better, but there is the option to buy an upgraded remote which is available on Amazon (#CommissionsEarned) or direct from their website. 
One other minor issue is that although it looks good, it would be nice if the antenna was integrated somewhat into the device.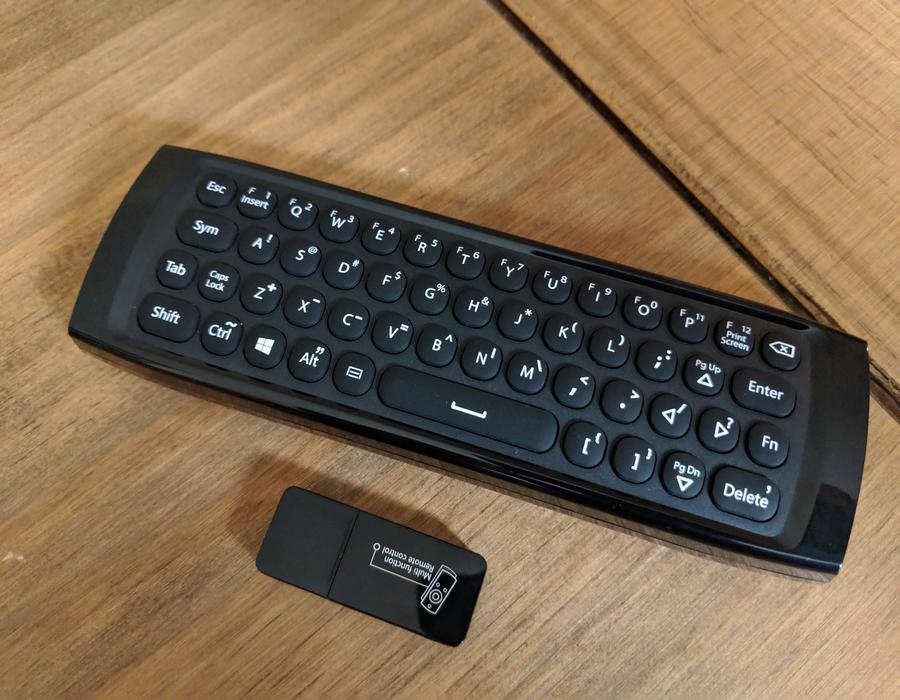 Should you buy the Azulle Byte3? – Bottom line
In short – yes, but consider your use-case.  The Azulle Byte3 is a fully-fledged computer that performs well and delivers 4K graphics.  All this is packed into a little black box that will look great on any TV stand.  It has lots of connectivity options including three USB 3.0 ports, an Ethernet port and a headphone jack and it's priced well too at just over $200 on Amazon (at the time of writing). 
So, if you're looking for a small and portable PC and your looking for something that will do more than a simple Chromecast or Tablet, then the Azulle Byte3 would be an excellent choice.
You can purchase the Azulle Byte3 on Amazon (#CommissionsEarned) or directly from Azulle here.