Disclosure: Bonkers About Tech is supported by its readers. When you purchase through links on our site, we may earn an affiliate commission. Thank you.
So you've got limited storage on your phone or tablet and you can't add an external SD card, so what do you do?
Well you could use Dropbox, Google Drive or OneDrive but what if you don't have an internet connection, like for example when you're on the move?
Well there is a solution to this problem. You can get a wireless USB stick from Sandisk that basically extends the storage on your phone – wirelessly.
It's very simple to use, just plug the stick into the USB port on your laptop, like you do with any other USB stick.
Then you can charge it up for a couple of hours, transfer any files you might have onto the stick and you're set.
Then all you have to do is press the power button on the stick to turn it on. The stick then becomes a wireless hotspot.
Finally you connect to the Wireless hotspot created by the USB stick by going to WiFi settings on your phone.
Once connected, you can then access all the content on the stick from your mobile phone or tablet. This includes streaming audio and video that you've got stored on the stick.
You can browse photos too, open PDF files or any document or file that you wish using the Android app or iOS app.
A nice feature of the app actually, is that it allows you to back up your photos with just a single click.
You can also easily transfer files between your phone and the stick.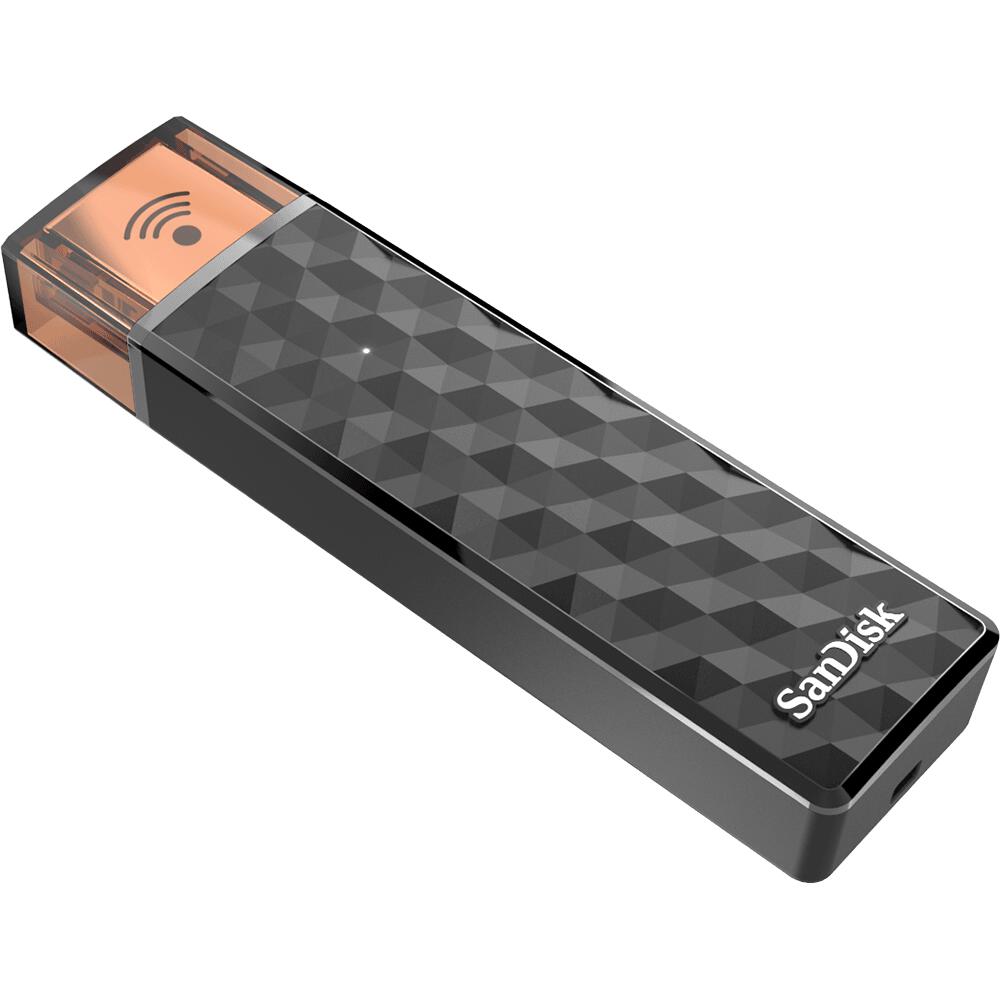 Essentially it's as if you had just plugged a USB stick into your mobile phone but without the wires. So you could just put it into your pocket or have it elsewhere in the room.
You can use it with up to three devices too at the same time. So for example you can connect your Android phone and your iPad to it.
This can come in handy when you want to transfer files between the two devices.
Security wise, well there's no authentication by default, but you can easily add password protection to it to prevent nearby devices connecting to it, much like any other WiFi hotspot.
In terms of its build quality, it looks pretty solid and made of solid black plastic with a 3D cube pattern. It's similar in size to a traditional USB stick, measuring 3 inches (7.62cm) long by 0.75 inches (1.91cm) wide and 0.375 inches (0.95cm) deep.
It has a removable plastic cap with a wireless logo on it too so you don't get it mixed up with a traditional USB device.
If you want to have internet access whist you're connected to the Sandisk drive, then you will have to connect the drive to your local WiFi network if you're an Android user. Otherwise, you will lose the dual-wireless connectivity, but this is actually a limitation of the Android operating system, not the actual drive.
If you're using the iOS version of the app, this is not an issue. As you will still have the ability to access the internet over your iPhone's 3G or 4G connection, whilst streaming from the wireless stick.
There are four different capacities of the stick ranging from 32 GB through to 200 GB, which is awesome, and should give you plenty of space for movies etc.
So if you're running out of space on your phone, want to share stuff between devices whilst you're on the move then this wireless USB stick is a really good option and probably the easiest way to expand your phone's existing storage.
If you want one these, check out the Sandisk Connect Wireless Stick on Amazon
(#CommissionsEarned)