Disclosure: Bonkers About Tech is supported by its readers. When you purchase through links on our site, we may earn an affiliate commission. Thank you.
Tribit XFree Color Wireless Headphones
First of all thank you to Tribit for sending me the Tribit XFree Color Wireless Headphones (Amazon, #CommissionsEarned) to review.
I've used them in pretty much every scenario last week including walking, on public transport, in the gym and in the office and I must say, I'm pretty impressed by them.
So if you're looking for a new pair of reasonably priced Bluetooth headphones with great audio quality, then these definitely fit that criteria. 
But before you rush out and buy them, read this genuine hands-on review where I reveal my personal experience of using them.
Highlights and Features
10 hours of play time, 1.5 hours charge time
Water resistant to rating of IPX5
Variety of sporty looking accent colors to choose from
Constructed in lightweight aluminium
Buds connect together using magnets when not in use
Noise Cancelling
Customized accessories to fit different sized ears
Hands-free calling on smartphones
Comfortable to wear and don't fall out
My Verdict
The Tribit XFree Color Wireless Headphones (Amazon, #CommissionsEarned) offer great audio quality, good build quality and great battery life. I like them for what they are designed for (i.e. the gym/running) as they remain in your ears and fit comfortably.
Tribit XFree Color Wireless Headphones Full Review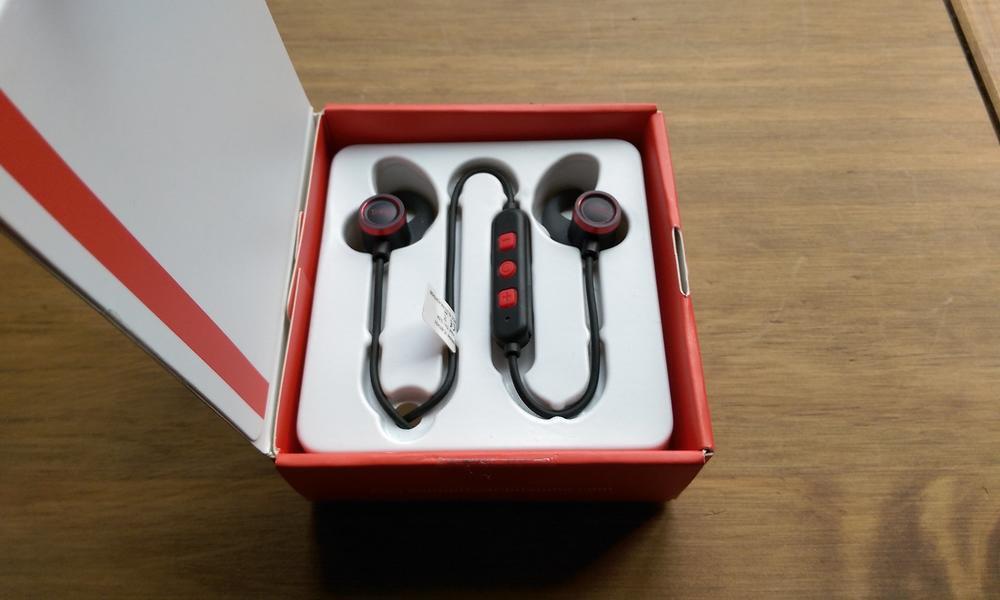 On arrival, the Tribit Wireless Headphones Amazon, #CommissionsEarned) were presented in a nice red and white box and neatly packed into a plastic inset.  On removal of the plastic inset, there's a user manual, a micro USB charging cable and a small black velvet 'travel pouch'. 
Inside the pouch are a bunch of accessories including ear tips, ear hooks and a small cable clip. 
There are three different sizes of the ear hooks (small, medium and large) and three different sizes of ear tips (again, small, medium and large).  I'm glad the different sizes were provided actually because choosing the correct correct size is not only important for comfort, it can also improve the sound quality because you get a better a seal.
Personally I found that the medium sized ear tips and hooks suited my ears perfectly.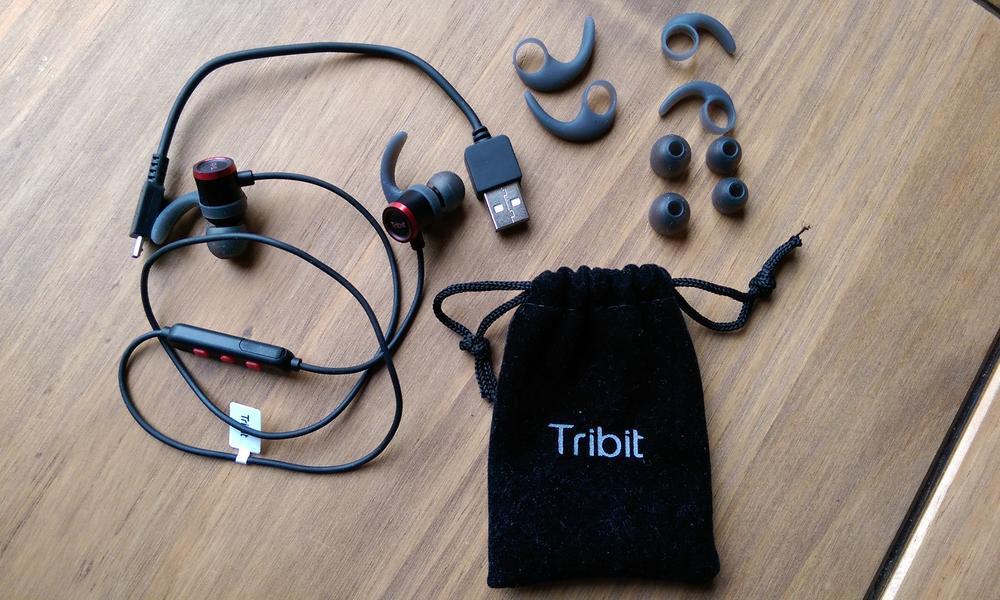 Design and Build Quality
These headphones are designed primarily for use during a workout in the gym or for running – hence the ear hooks.  But they're also perfectly suited to listening to your favourite music on YouTube or Spotify in the office or on train etc.
I've always used earphones without hooks and they always seem to fall out of my ears.  Maybe I've got oddly shaped ears, but these earphones actually stay in, so you don't need to stop your workout or stop running to readjust them!
To wear them snugly, you simply push the ear tips into your ear and twist them backwards slightly until the hooks fit into your ears.  Note that the hooks actually hook around on the inside of your ear and not over the ear like some earphones do.
The headphones are fairly light at 14g and the actual earphone housing is made out of metal – lightweight aircraft aluminum according to the Amazon description.  But in any case, they feel very solid and definitely feel like a premium product.
The headphones are actually magnetic too, so when you put the buds together, you can wear them around your neck and that way, you won't lose them!  It's so much easier to lose bluetooth headphones with there being no physical connection to a headphone jack!
The actual ear tips and ear hooks are themselves made out of silicone, so they're very flexible yet durable, so not complaints there.
The only thing for me that doesn't feel quite as good quality as everything else is the buttons.  They're made out of plastic, which is fine, but in comparison to the feel of the metal buds, they just don't feel quite as premium.  It's not a showstopper though and the buttons work perfectly well.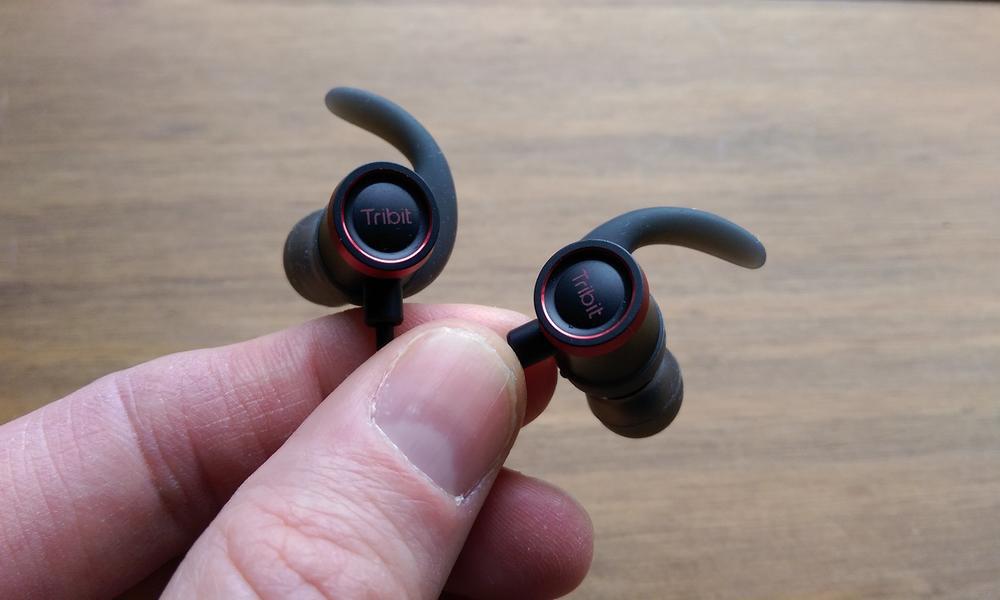 Sound Quality
The sound quality for the price of these earphones is pretty good, I have to say.  As with all inner-ear style headphones, a lot depends on the fit inside your ear.  So if you choose the right sized ear tips and ear hooks for your ears, then you should be able to get a good seal, which makes a big difference to the sound quality in my experience.
I managed to get a good fit with the medium sized ear tips and found the sound quality to be great for what I've been using them for (i.e. listening to YouTube whilst writing this review, commuting, gym etc).
The sound is well balanced in the low, medium and high frequencies but personally, I like the low-end bass to be a bit more punchier.  So for that reason I would probably recommend either a full surround sound system or 'over the ear' style headphones for watching movies.
Features
Charging
Charging is done through the micro USB cable provided.  So you simply plug the micro USB connector into the socket on the controls and plug the other (larger) end of the USB cable into a PC, a wall adapter or a portable Power Bank. 
But before you go plugging it into any device, make sure that the output voltage is 5V because any more than 5V could cause damage to the earphones as there isn't any built-in over-voltage protection.
One thing I should mention actually is that I found the socket on the headphones slightly hard to spot at first because it's so tiny and quite well hidden behind a silicone flap.  But don't get me wrong, this is a good thing as it keeps it low-profile and unobtrusive.  It also keeps it free from dirt and the elements provided that you keep the socket covered when the headphones are not being charged.
Once you plug the earphones in and they begin to charge, the LED on the controls will turn red.  Once the charge is complete, the LED turns blue.
If the battery is low, the LED will flash red and you'll hear a beep every 60 seconds.  You'll also get a voice prompt which is annoying enough to make you plug the headphones in 😉
In total it takes about 1.5 hours to charge, and you can keep using them for up to 10 hours, which is excellent.  It means that you can keep using them for at least a full day in the office or use them for several workouts, without fear of them running out of charge.
Controls
In terms of the controls, there are three main control buttons in total that are positioned along the wire not far from the right earpiece.
The central button is a Multifunction Button (MFB) and powers the device on, Bluetooth pairs, plays and pauses tracks and provides various handsfree call functions such as answering and ending calls.
The buttons either side allow you to adjust the volume on a quick press and you can skip tracks back and forth if you hold them down for two seconds.
To power on, you have to hold the MFB button for 2 seconds until the LED flashes blue for 1 second.  You'll then hear a beep and a voice prompt.
To power off, you have to hold the MFB button for 4 seconds until the LED flashes red for 1 second.  Again, you'll hear a beep and a voice prompt.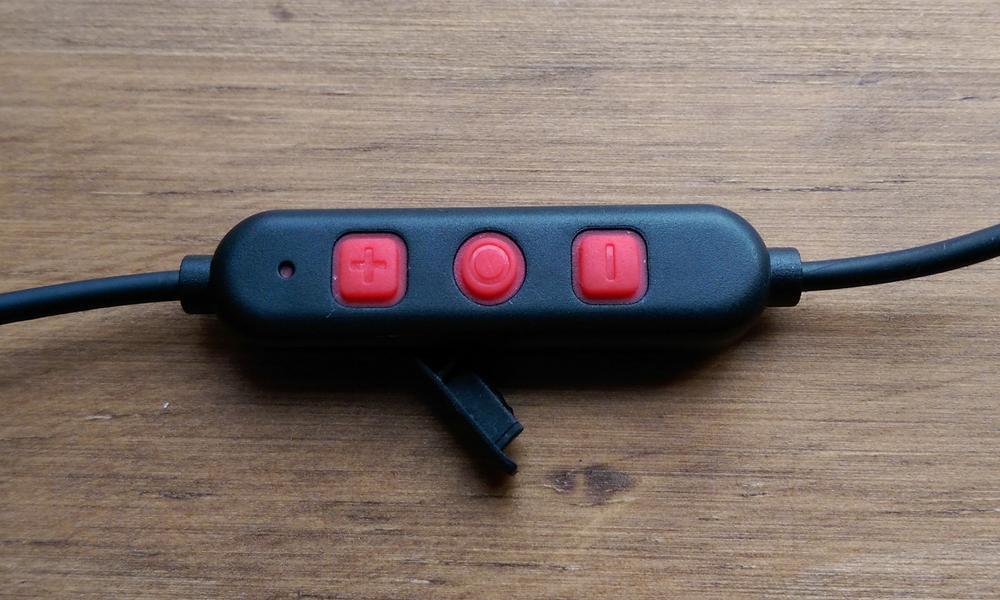 Pairing the Earphones
Pairing the earphones is very straightforward.  With the headphones OFF and within a meter of your phone, you simply press and hold the MFB button for 5 seconds until the LED flashes red and blue.  You'll then hear a beep indicating that pairing mode has been activated.
Next, head over to your phone and enable Bluetooth and select Tribit XFree Color from the list of devices.
Once connected you'll hear a beep sound and a voice prompt letting you know that pairing was successful and that the headphones are connected.  The LED will also flash blue at this point.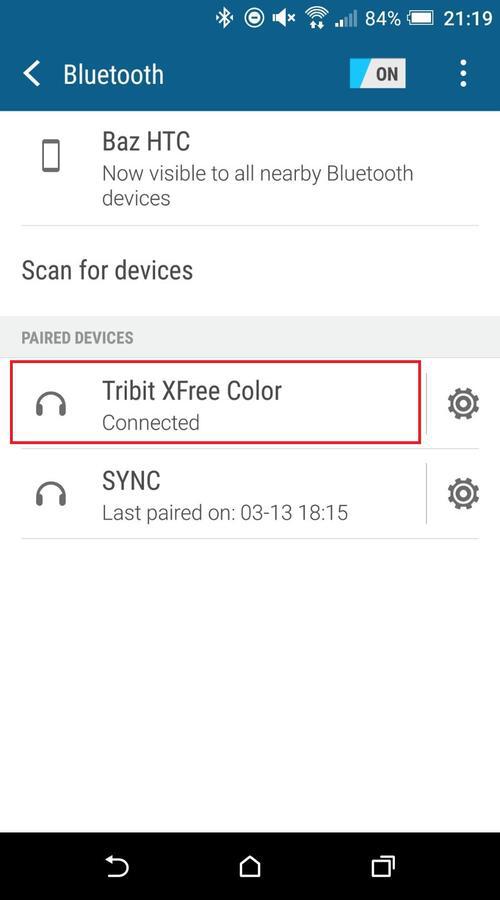 Hands Free Calling
When you receive a call, the music instantly stops and you get a ringtone not nearly as annoying as my own ringtone!  To answer the call, you press the MFB once.  
If you're on a call and wish to end the call, again you just press the MFB button once.
If you wish to reject a call, you press and hold the MFB button for 2 seconds.
In addition, with different button press combinations, you can redial the last number, voice dial, answer and transfer two calls and swap the call between the headphones and the phone.
Having taken a number of calls, I found the quality of the microphone to be perfectly good and I've got no complaints in terms of the audio quality during calls.
What's more, the person on the end of the call didn't have any complaints either and they could hear me clearly and didn't realise I was on the hands-free, bonus!
Water resistant
The Tribit Headphones have a special nano-coating on them which is rated at IPX5.
What this means is that they're water-resistant but not water-proof.  So in other words, your headphones will continue to function in the rain and will withstand some splashes of water and won't suffer any damage.
But don't be tempted to go swimming with them on or submerge them in water as they'll probably break, it's not what they're designed for 😉
Also, like I said before, make sure that the flap that covers the charging socket is closed because USB sockets and water defintely don't play well together 😉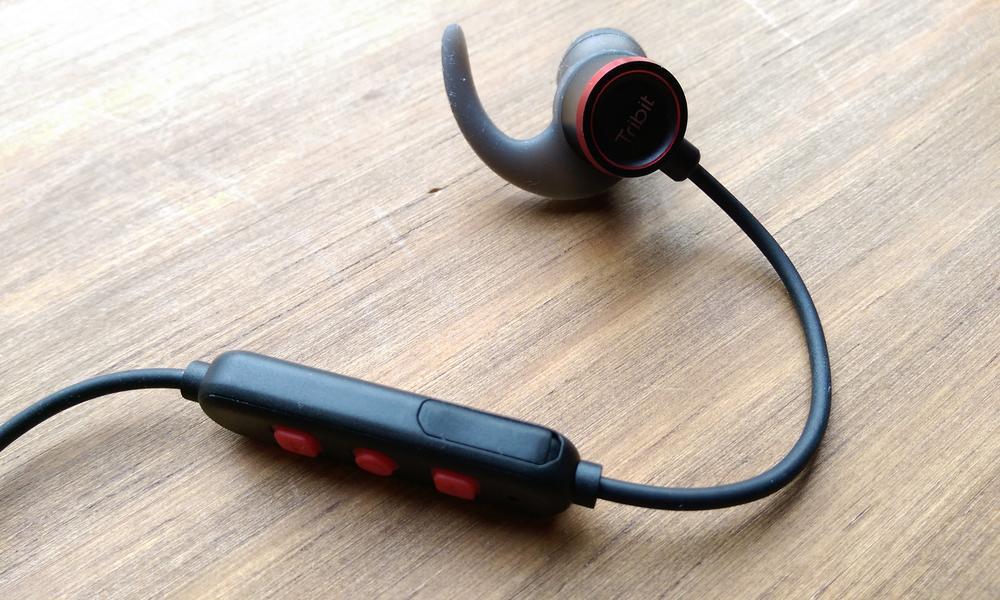 Battery life
The battery life on these headphones is great.  I spent a whole day in the office one day (about 8 hours) and two 1 hour commutes and they were still going strong, which I think is pretty good.
So if you're thinking about using them at the gym or going for a run, you definitely won't need to worry about the earphones dying on you.
Oh and they charge pretty quickly too – just over an hour and a half.  Awesome.
Comfort
Overall I found the Tribit XFree Headphones to be pretty comfortable as far as in-ear headphones are concered.
Personally I've always prefered over-ear style headphones, as I find them much more comfortable, especially when using them for long periods of time.
Also, I've never really found a good pair of in-ear headphones to fit my ears properly and they always seem to fall out at some stage.  But maybe that's just the shape of my ears 😉
Anyway, because the Tribit Headphones come with ear hooks, I find that they actually stay in my ears even when I'm walking, running or generally moving about.
The good thing too, as I mentioned earlier, is that you get three different sizes of ear tips and ear hooks, so you can find out which work out best for you.
Technical Details and Specs
| Bluetooth version | Bluetooth profile | Noise reduction | Input | Charging time | Working time | Standby time | Weight | Water resistant |
| --- | --- | --- | --- | --- | --- | --- | --- | --- |
| Bluetooth V4.1 | HFP, HSP, A2DP, AVRCP | CVC 6.0 | DC 5V / 0.5A | About 2 hours | 10 hours | 400 hours | 14g/0.49 ounces | IPX5 |
The Downsides
The only slight downside for me is that the bass could be a bit punchier, but that's a personal preference and other than that the sound quality is great.
If I were to nitpick, then maybe the buttons could feel a bit better quality and it would be nice to be able use the headphones at the same time as charging them, but other than that, they're a great pair of headphones.
Should you buy them? – Final verdict
Overall I've been very impressed by the Tribit Headphones and one of few in-ear type headphones that I've tried that actually stay in my ears!
The sound quality is great, they last for a good while without charging and although they are comfortable, I do prefer the comfort of over-the-ear headphones, especially when watching movies.  But again, that's a personal preference
In summary, these headphones are great all rounders, they're great for workouts, running, YouTube, Spotify etc, so there's something for everyone here, regardless of the type of music you like to listen to.  So I highly recommend you check them out.
See what other people are saying about the Tribit XFree Color Wireless Headphones here (Amazon, #CommissionsEarned)
Check out the earphones here (Amazon, #CommissionsEarned).