Disclosure: Bonkers About Tech is supported by its readers. When you purchase through links on our site, we may earn an affiliate commission. Thank you.
If most of your day is spent in front of a computer screen, chances are that you have tinkered with the appearance of your desktop via the personalization settings already.
There are a lot of possibilities in there such as changing up the accent color, adjusting the opacity of the taskbars, and other aesthetic changes that'll suit your fancy.
You'll be staring at and interacting with these things for hours on end so you might as well be doing these with something that soothes you, right?
In this light, there's one thing that you can change that has more impact than any of the other options – this is the desktop wallpaper. 
They're the digital equivalent of those signed baseball bats and other quirky adornments we set on our work desk.
It's the first thing you see when you boot up your computer and the last thing you see before you shut it down so you might as well change it into something that you like. 
It can be an impactful movie, quote, or even an image of your dream vacation.
Most of the time, we end up choosing desktop wallpapers we feel like represents us best. 
But we also tend to images that evoke a sense of calm. 
Looming deadlines at work or that strongly worded email that you feel like you've got to send, after all, can be a little stressful.
If you're sick of the default wallpaper that came with your computer and you don't have the time or the mental bandwidth to make one for yourself, you're going to have to have to look for the perfect image on the internet. 
This task can be draining due to the sheer number of websites aiming to hook your eyeballs.
So, if you're tired of looking for one on your own, I've compiled a list of the best sites where you can get the best quality images for whatever sort of screen. 
They're all excellent websites that have images that are of high enough quality to push the modern computer screen's pixel density.
VladStudio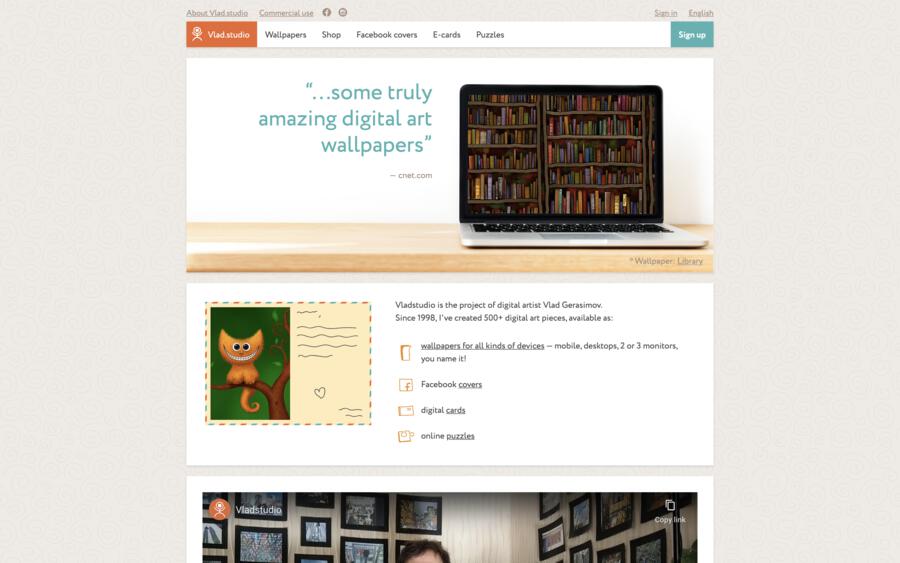 There are a few sites out there that focus on a single artist. VladStudio is one of the best of them.
The website features the works of digital artist Vladislav Gerasimov. In a way, it serves as his online gallery.
VladStudio mainly sorts images and wallpapers by way of their intended use. 
Desktop wallpapers and Facebook covers, for example, are compiled in different tabs so you can easily choose the best image for your particular purpose. 
But, one of the differentiating factors that VladStudio has over other websites like it is that it also sorts images depending on the devices they're intended to be displayed on. 
You can browse through device-specific recommendations so you don't have to worry about display compatibility.
It's a well-curated website that has a ton of original work from Vladislav. The range of topics covered by the artist may seem limited especially when compared to the rest of the websites on this list but this can be refreshing. 
Because all the wallpapers are created by one artist, the variety of styles can be a bit limited too. 
But don't worry, Vladislav approaches each of his art with enthusiasm and whimsy. 
Furthermore, most of his works tell a story instead of being just pretty.
As for Vlad's style, it's mostly in-line with a mixture of minimalism, material design, and storytelling so each of his work should be easy on the eyes with its flat colors and intrigue with the story that it's trying to tell.
If you register your email with the website, Vladislav would be gracious enough to give you access to up to seven restricted download images. 
If you wish to download more than that, the website will charge you a one-time payment of $9.99 for an unlimited download.
DeviantArt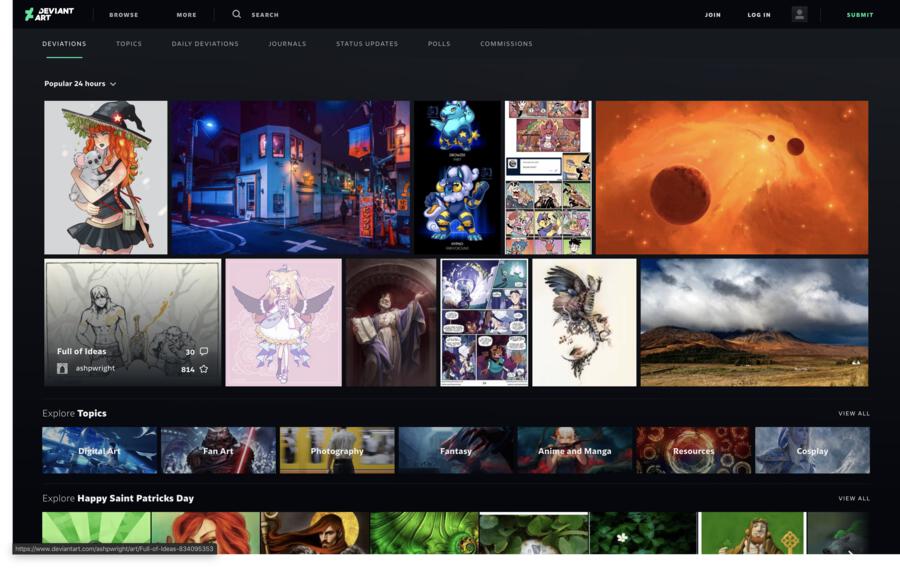 Deviant Art is not exactly a wallpaper-specific website. 
It's an online community website for digital creatives, both amateurs and professionals alike, who would like to showcase their skills or communicate with like-minded individuals through their digital art. 
It's more like Facebook wherein instead of status updates and food pics, users share their creative output.
The website has been in existence for a while now, therefore, it has already generated an unbelievable amount of original work from all over the world. 
As such, there are a lot of different styles and artistic philosophies to choose from.
If you're looking for fan art of your favorite pop-culture phenomenon, DeviantArt is where you would first go take a look. 
From 3D reimaginings of Pokemon characters to Mario playing a Nintendo Switch, this website has everything you could think of. 
A lot of them are free if you register your email on the website but for some, you have to pay first to be able to download anything. 
Prices range from $4.99 to upwards of $22.99. If you want, you can also order print copies of different sizes of the images that resonate with you.
Artists, after all, need to eat too.
You can even commission artwork from digital artists that you've grown to like via the website.
Wallpaper Stock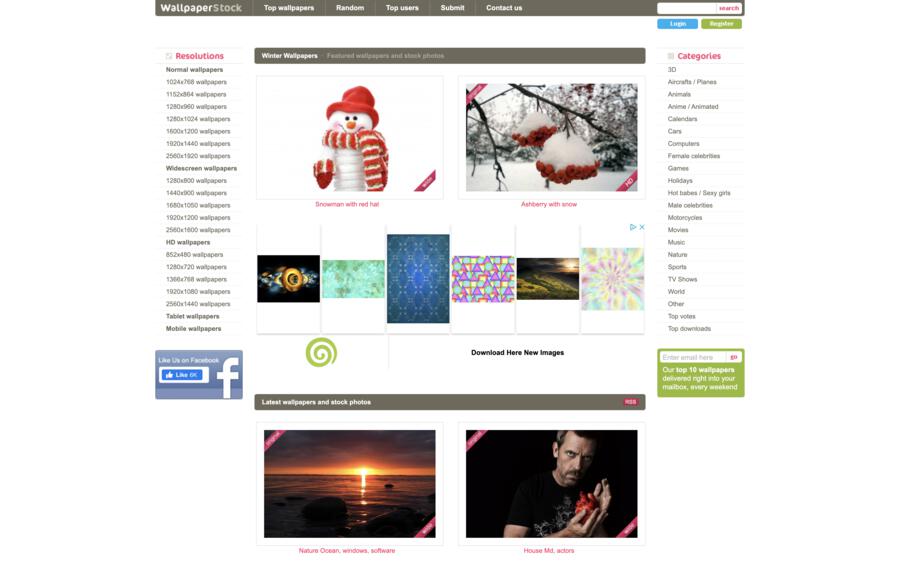 If you're looking for images that resemble the wallpaper defaults that come baked into Windows 10, Wallpaper Stock would be a great place to look. 
It's got a wide selection of wallpapers specifically designed for different screen resolutions and sizes that'll definitely max out their pixel density.
There are a lot of stunning landscape photos of magnificent looking places across the globe from talented photographers. 
From the Grand Canyons to the Parisian streets, Wallpaper Stock has got them all.
But don't be discouraged if you're a digital art fan. There is also some digital art floating around here whose quality may just surprise you.
If you're looking for certain styles and art philosophies, however, you might find your time within the Wallpaper Stock a bit difficult. 
They sort their art mostly by subject.
As mentioned, everything on the site is free. But, to make that happen, site owners instead opted to let advertisements run on the website. 
Since a lot of the content on it are landscape photos of beautiful places around the world, you'll most likely see travel ads on it when you open up the site.
Simple Desktops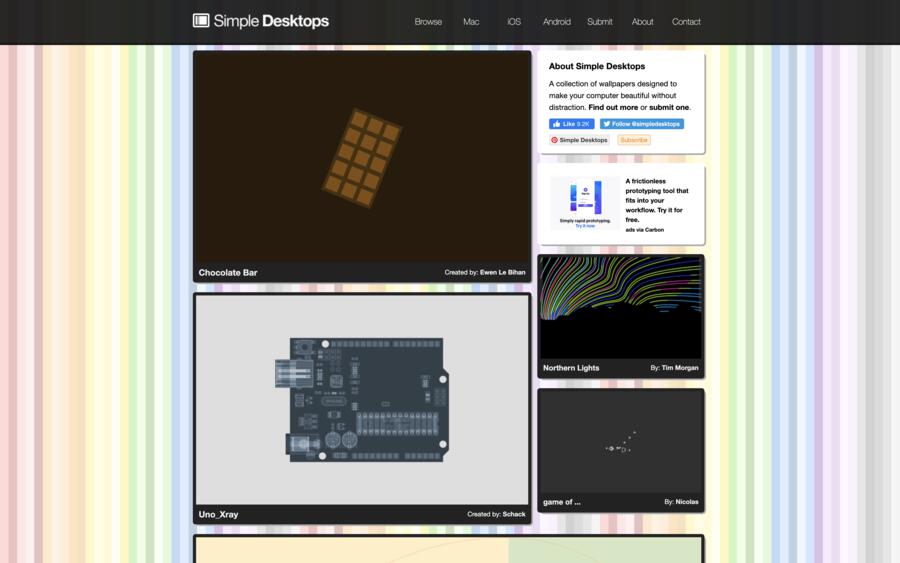 Sometimes desktop wallpapers can be too busy. What I mean here is that there can be too many things going on.
One desktop wallpaper on a Fourth of July themed image that I saw on a friend's computer, for example, looked like a million different things were going on. 
There's nothing wrong with this, of course. Your choice of desktop wallpaper is totally yours to make.
But, if you're specifically looking for a calm, minimalist, and flat desktop wallpaper, Simple Desktops might be the one site you should go to look at first. 
It's got images that would probably satiate any minimalist's wallpaper appetite.
One particular wallpaper that got to me was an image of a watermelon. The colors of the image itself are flat and the style seems inspired by Google's material design.
It's a single watermelon in the middle of a 16:9 watermelon flesh colored background. 
It's amazing how something so mundane and simple can be made to look so beautiful on a wallpaper.
There aren't any options for downloading specific resolutions and pixel density like the others on this list. But, with these kinds of simple images, you can just as easily crop or magnify it to fit your screens perfectly.
Unlike with Deviant Art and Wallpaper Stock, with Simple Desktop, you get one minimalist style from a huge selection of digital artists. So you're left with a great selection of wallpapers that are focused and minimal.
They're also all free so you can download as much as you want. 
This might be a good thing because some of them might be too simple to keep on your desktop for too long. 
Personally, I'd have a good four or five of these wallpapers in rotation.
So if you're looking for wallpapers that don't have much going on in the image, you're going to want to look at the Simple Desktop website. 
It's precisely as advertised.
The Fox Is Black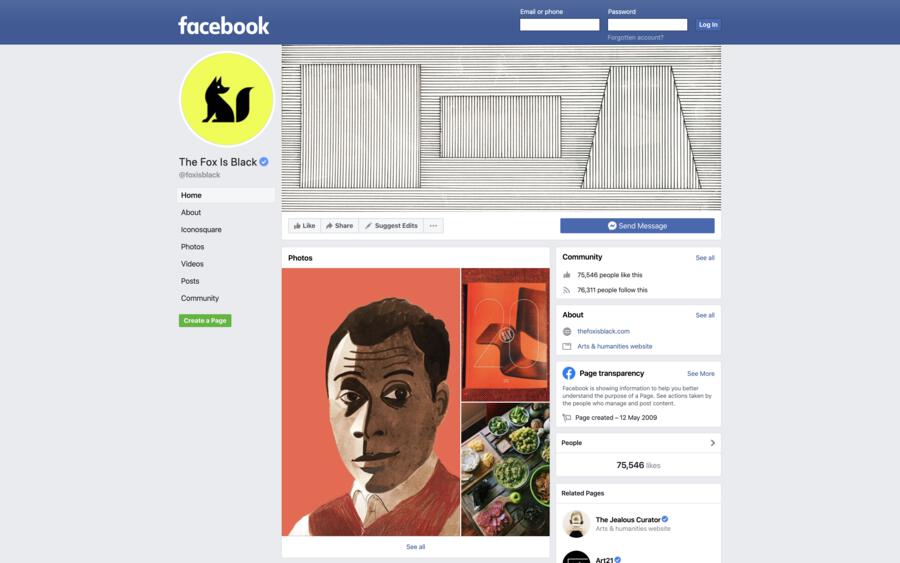 I've got to be honest with you. With the websites I've already mentioned, a lot of them have repetitive themes and styles. 
DeviantArt, for example, has such a huge selection from both amateurs and professionals alike.
What we end up with is a collection of art that might not exactly be from a fresh perspective. 
Try to put "sunset" on the search function and you'll see what I mean.
If you're in the mood for something different and fresh, the Fox is Black has some unique wallpapers for you to choose from.
The selection is made up of curated content from creative professionals. 
So, you're not going to find anything by amateurs who illustrate things for the internet on weekends or during their free time here; instead, you're going to find highly detailed creative wallpapers from people who actually do it for a living.
This is not to say that wallpapers made by professionals are instantly better than from amateurs. They're just more thought out and detailed because they actually lean on their work to make a living.
Furthermore, The Fox Is Black is not only a wallpaper site, but it's also a culture blog. 
So, you can get some really interesting insight into art and culture while you browse for wallpapers.
There's only one downside for the website though. You can't search for specific art subjects.
Instead, you find images via a weekly curation effort from the editors so you're going to have to stick with what they have to offer.
Pexels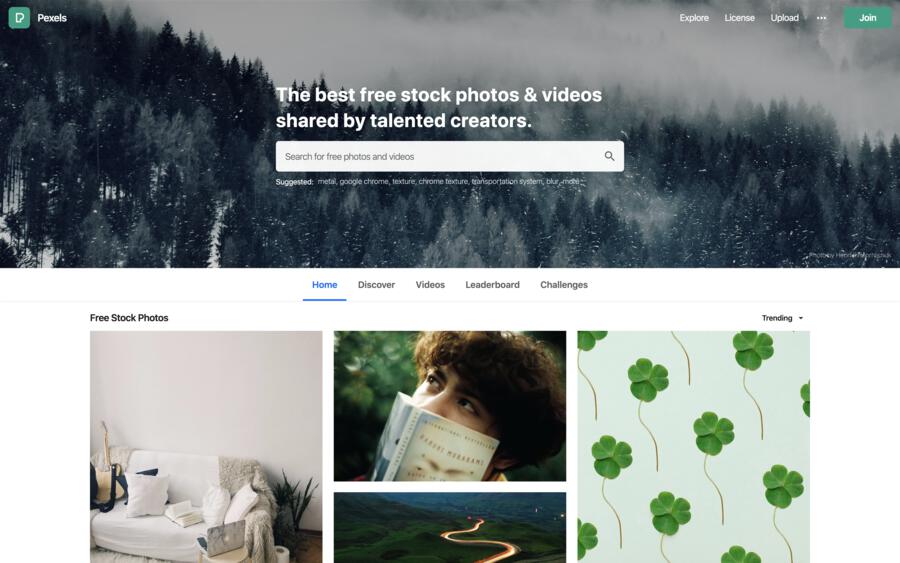 Stock photos that are often used in websites can also be downloaded and turned into your desktop wallpaper. 
One of the most famous stock photo websites is Pexels.
There are thousands of original user-submitted images here that would work just as great as wallpapers as they do with website background images. 
You just might have to do a little bit of tweaking to make the images fit on your screen perfectly.
Because it's designed for web developers, images are categorized according to industry topics. 
For example, there's a separate category for food, pets, and people working on computers.
Sadly, there's no option to sort out aspect ratios and image size like a normal wallpaper website does. 
But, the images are at high enough quality so that you don't have to lose image quality even if you have to cut them.
Movies Wallpaper HD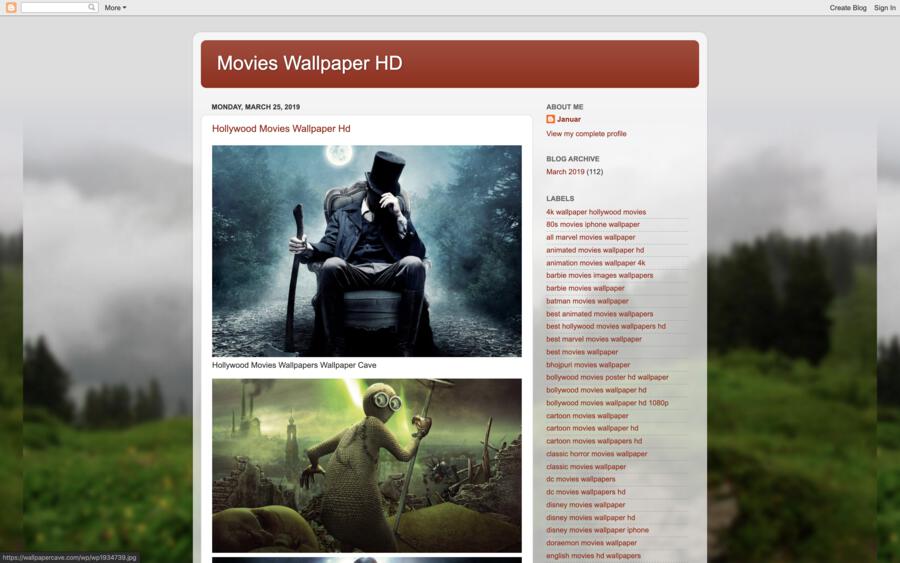 Movie buffs rejoice! We've got a wallpaper site all to ourselves.
Movies Wallpaper HD probably has the most extensive and up-to-date movie-themed wallpapers on the planet. 
I can only assume that all the images are lifted from promotional materials and screenshots and edited by the site owner because some of the wallpapers are pretty original. 
Is there a specific movie scene that you want to immortalize on your desktop? There's probably one already in existence in the Movies Wallpaper HD.
It's a pretty well-organized website too because you can filter specific movies. 
There's an entire section dedicated to Marvel fans, DC fans, and even for the screaming lovers of the Twilight Saga.
Do you have a 4K screen? No problem. Movies Wallpaper HD has a decent selection of 4K wallpapers as well.
It also has a decent selection of wallpapers from classic movies. 
What's amazing about this is that it doesn't even have its own web hosting service. It's just a user-created website on the Blogspot platform.
So, whoever you are that's painstakingly editing these materials, movie fans all over the world thank you for your service.