Disclosure: Bonkers About Tech is supported by its readers. When you purchase through links on our site, we may earn an affiliate commission. Thank you.
I recently got sent the Homiee Infrared Thermometer (Amazon, #CommissionsEarned) the other day and I agreed to review it.  I've reviewed a number of things on my blog up to now, such as WiFi plugs, WiFi light bulbs, Bluetooth Headphones and Bluetooth speakers, but I've never reviewed a thermometer.  First time for everything I suppose!
Anyway, given that I have a small child, I thought I'd check it out and see what it's capable of.  I hope that I don't need to use it very often, but when your child is under the weather, they can really come in handy as a high temperature can be a good indication that there's something underlying.
So, let's have a look in more detail, shall we?
Highlights and Features
Three modes – take temperature from forehead, ear or an object
Backlit LED Display
Audible and visual fever warning alert when temperature exceeds 37.5°C / 99.5°F
Retains up to 20 temperature readings
Auto switch off after 10 seconds of inactivity
Hygienic and easy to clean ear port
Temperature Units: °C / °F
My Verdict
The Homiee Infrared Thermometer (Amazon, #CommissionsEarned) does exactly what it says on the tin, it's easy to use, gives you a quick temperature readout of your ear, forehead or other random objects – perfect for testing the temperature of your little ones.
What's in the box?
1 x Homiee Three Modes Infrared Thermometer 
1 x Storage Bag 
2 x AAA Batteries 
1 x User Manual
Design and Build Quality
The first impression I got when opening the box, was that the thermometer is very professional looking and I'm pretty sure it's very similar to what health care professionals use.  Although I'm sure they don't use this specific thermometer, it certainly looks the part and looks very similar to what they use in a doctors surgery/hospital in the UK.  In other words, it feels very clinical, which is a good thing.
The box that the thermometer comes in is nicely presented and when you open the box, the theremoter is contained within its own storage bag, made of a grey cloth material with a white drawstring at the top.
The clinical/professional theme continues when I take the thermometer out of its bag.  What strikes me is the how light this device feels, but nonetheless it feels like it is well made and made of smooth, good quality plastic with no sharp edges whatsoever.
One thing I did notice was that something on the thermometer rattled if I shook it – not sure why I decided to do that, but I did ;).  On closer inspection, it was a little switch on the side that is used to mute/unmute the fever alerts, which was a little loose.  I think this is just purely a mechanical issue and does not interfere with the proper functioning of the switch.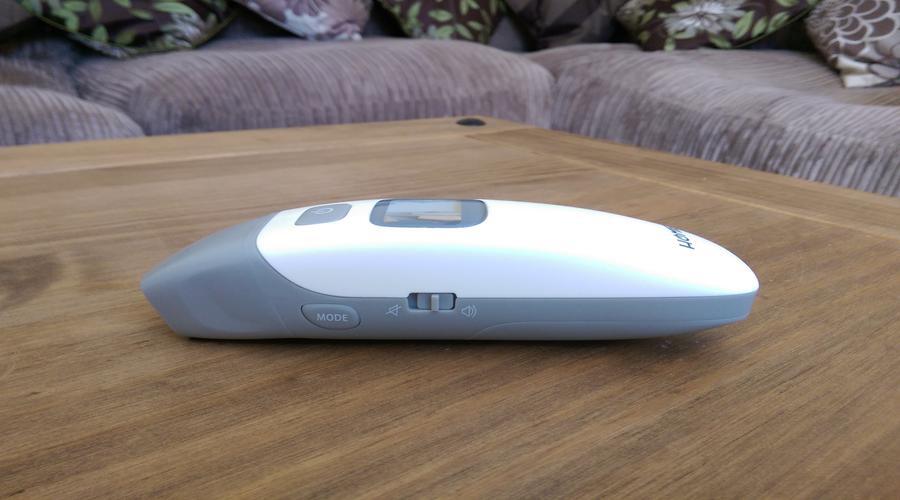 Whilst were on the theme of buttons and switches, the remaining three buttons namely the power button, memory button and the mode button have a nice feel to them.  They are very "clicky" so there is no mistaking you have actually pressed them.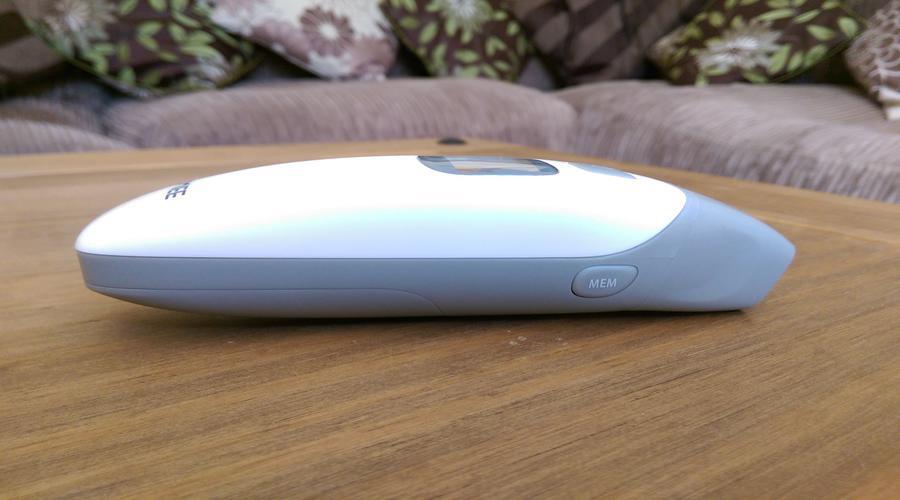 On the back of the thermometer is where the batteries are located.  It takes two AAA batteries, which Homiee claim will last for at least 20,000 uses.  I'm not sure how accurate this is, but it does switch off automatically after about 10 seconds if you don't use it.  The bottom line is, you're not going to be changing the batteries any time soon 🙂
One feature I do like is that when you remove the plastic tab situated beneath the batteries, the thermometer bleeps and the display glows green to indicate that power is actually getting to the device.  At least it tells you whether your batteries are flat or not, so this is definitely something to look out for when the time comes to replace the batteries.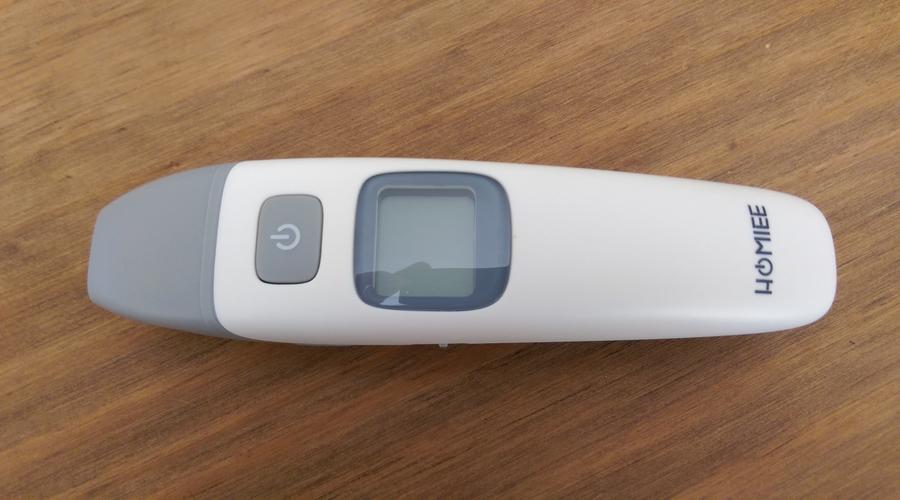 The thermometer has a dual-mode design.  What this means is that you can switch the detection mode between measuring the temperature of the forehead or ear drum.  To be able to take the temperature of the ear drum, you have to remove the probe cover.  I'll be honest here, I didn't find it easy.  Because the plastic on the thermometer is so smooth, when I tried to remove the probe cover, I found that it just slipped out of my grip, so it could probably do with some grips on each side (like the grips on the battery cover perhaps).  Maybe there's a technique to removing it that I just haven't found yet and I'm sure over time, it will get easier 😉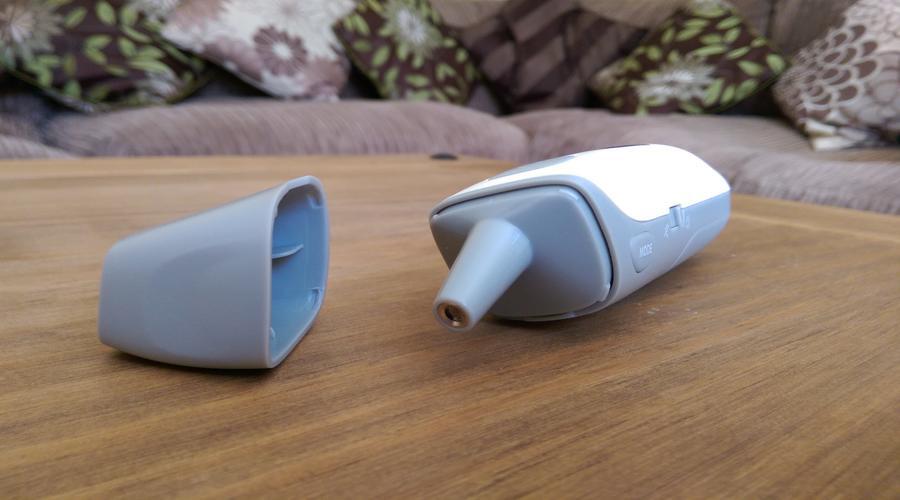 Reading temperatures
If you haven't already worked out from the title of this post, the thermometer uses Infrared energy emitted by your body to measure temperature.  When you position the thermometer on the surface of your skin or in your ear canal, the lens focuses the infrared energy emitted by your body onto a sensor which turn it into a temperature reading using thermopiles (devices that covert thermal energy into electrical energy) and measurement circuits.  
So that's the basics of how it works.  Let's have a look at how you actually read temperatures with this thermometer.
Measuring ear temperature
To measure the temperature of of the ear, you simply remove the probe cover and press and release the Power button to turn it on.  Next, you have to select the Mode button until you see the "ear" symbol.  When you see this on the display, you insert the temperature probe into the ear canal and press the Measure button and the temperature will be shown on the display.
Measuring forehead temperature
Measuring the forehead temperature is just as straightforward.  With the cover on the probe, again press and release the Power button to turn it on.  Next, select the Mode button until you see the "head" symbol.  Now instead of actually coming into contact with the skin, you point the thermometer on the temple of the forehead between 1/2 and 2 inches away from the surface of the skin.  Then, you simply press and release the Measure button to get a reading.
The great thing about this mode is that it's completely none invasive and the safest way to take the temperature.  It's perfect for taking the temperature of your child whilst they're sleeping for example.
Measuring object temperature
In addition to measuring body temperature, you can actually measure the temperature of random objects.  Measuring the temperature of objects is the same procedure as measuring the forehead, except that the mode button must be pressed until you see the "house" symbol.  This is really useful for measuring the temperature of a bottle of milk or the temperature of bath water for example.
Fever alarm
Should the thermometer detect a high temperature, i.e. when your body temperature exceeds 37.5°C / 99.5°F, it will give you an audible and visual fever warning alert.  When you get the alert, the screen will glow red and you will hear three successive beeps.  
If on the other hand your temperature is normal, you will hear a single longer bleep and the display will glow green.
When you take the temperature of ordinary objects, the display is illuminated white.
Technical Details and Specs
| Fever Warning | Temperature Units | Forehead & Eardrum Temperature Range | Objects Temperature Range | Precision | Working Temperature | Latency Time | Sound | Auto-Off | Battery Lifetime |
| --- | --- | --- | --- | --- | --- | --- | --- | --- | --- |
| 37.5°C / 99.5°F or higher | °C / °F | 32°C ~ 42.2°C (89.6°F~ 107.9°F) | 0°C ~ 100.0°C (32.0°F~ 212.0°F) | ± 0.2°C / ± 0.4°F | 10°C ~ 40°C (50°F~ 104°F) | 3 seconds | ≥50db | 10 ± 1 second | ≥20,000 uses |
The Downsides
I strongly believe that there is no perfect product, but this one is pretty close.
I've previously mentioned the fact that the mute switch rattles ever so slightly, but this is purely an mechanical thing and it doesn't affect the operation of the switch in any way.
The only other downside that's worth noting is that I would expect extra modes to be available for various age groups because body temperature varies slightly with age.  So when you're taking the temperature of your newborn for example, it would be nice if the reading was being compared to the temperature you'd expect for a newborn and not that of an adult.
Should you buy the Homiee Infrared Thermometer? – Final verdict
The quality and finish on this thermometer is pretty good.  It feels like professional medical equipment and I like the fact that there are multiple ways of taking temperature.  It also has the ability to store up to 20 temperature readings, which is a nice feature to have because you can see over time if your child's temperature is increasing (or decreasing) and it also serves as a record which you can show to your doctor.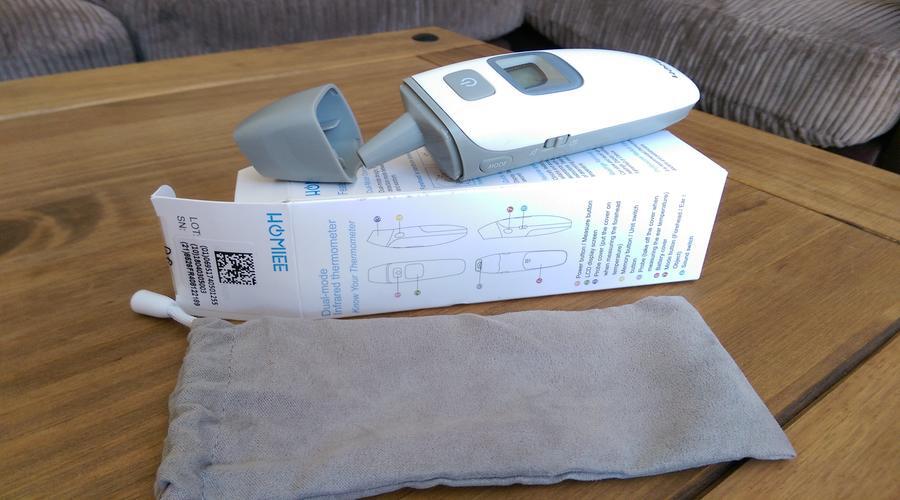 Although, the thermometer is easy to use, it's worth having a look at the manual because it does an excellent job of explaining the basics of body temperature, how it fluctuates based on external factors/time of day etc and what temperature you should expect for various body parts.  The manual also explains how the thermometer works, how to use it step-by-step and talks in detail about some of the safety aspects.
So should you buy one?  Well I think so.  Homiee, if I'm honest, is not a name that I've heard of and it certainly isn't a household name, like Braun for example, but it does the job of taking temperature well and can give you a good indication of whether your little ones (or big ones!) are poorly or not.
It's just a shame that there aren't separate modes for different ages groups, but I don't think this a show stopper by any means.
Click here (#CommissionsEarned) to buy the Homiee Infrared Thermometer on Amazon .