Disclosure: Bonkers About Tech is supported by its readers. When you purchase through links on our site, we may earn an affiliate commission. Thank you.
DOSS Traveler Bluetooth Speaker
Many thanks goes to DOSS for sending this Bluetooth speaker for review.  When I first saw the speaker on Amazon, my first reaction was wow, this looks amazing and since receiving the speaker, I'm pleased to say, that my view hasn't changed.
I don't know who is more excited by this speaker, myself or my 3 year old daughter!
If you check out the DOSS Traveler on Amazon, (#CommissionsEarned) you'll notice that it has some excellent reviews.  And if you like, you can see all the reviews here (Amazon, #CommissionsEarned).
But if you want to know a little bit more about the product then read this genuine hands-on review and I'll share with you my personal experience of using this speaker.
About DOSS
Many of you might not have heard about DOSS, as they're not a huge household name, but they are a well known Bluetooth speaker brand in China and they've been developing audio products for the last 18 years.
So they're a well established manufacturer and no stranger to these types of products.
Given the superb ratings on Amazon, it is clear that this is a quality product.  And it just goes to show, that you don't always need to pay the extra expense for a product with a well known name.
Highlights and Features
Impressive sound with 2x10W drivers and passive radiator
Bluetooth 4.0 technology
Portable
IPX67 waterproof and dustproof
Ruggedized and shockproof
Awesome battery life – 12 hours of playtime
Five different lighting modes
Micro SD to play music or upgrade firmware
Auxiliary-in cable for wired connection
Integrates with Amazon Echo Dot
My Verdict
The DOSS Traveler Bluetooth Speaker (Amazon, #CommissionsEarned) is fantastic looking speaker with great sound quality and awesome battery life.  The Traveler is built for robustness and ideal for use whilst camping, on the side of the pool or even at the beach.  The speaker is very loud and a little bassy which might not suit everyone's tastes.
DOSS Traveler Bluetooth Speaker Full Review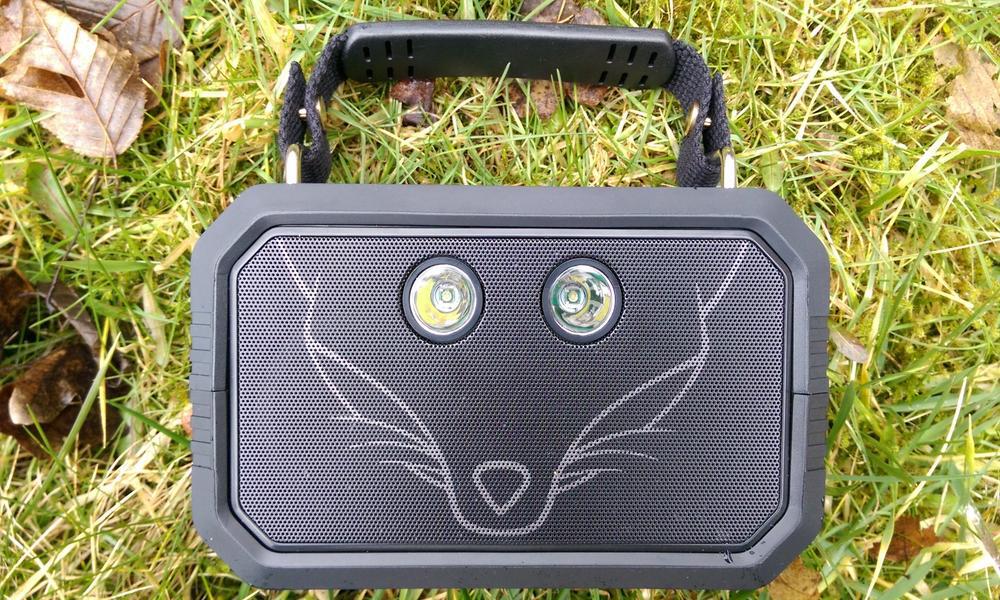 A Bluetooth speaker is an essential piece of kit in my opinion as they allow you to easily share your music with friends either at a BBQ, a kids party or even a picnic at the click of a button.
Now like most things electronic, Bluetooth speakers are mostly designed for indoors or outdoors when it's not raining.  But what if you want to listen to music whilst you're camping and it starts to rain?  Or what if you fancy listening to your favorite tunes at the side of the pool in the summer?
Well, it's kind of pointless having a portable speaker if you can't take it to certain places without fear of it getting damaged in the rain or being splashed by someone jumping into the pool.
But fear not, there are options out there and one of those options is the subject of this review.
The DOSS Traveler (Amazon, #CommissionsEarned) is exactly the type of portable speaker that can go anywhere.
So if you're in the market for a Bluetooth speaker that can withstand rain, splashes of water and rugged enough to withstand being dropped, then this could well be an option for you.
I've been using the Traveler for a good few days now, here's how I got on:
What's in the box
DOSS Traveler Speaker
Micro USB cable
3.5mm auxiliary-in cable
Short Handle – 11 inch
Long Strap – 63 inch
User manual
Design and Build Quality
DOSS have taken a different approach with this speaker, compared with the sleek and modern design of their previous speakers (such as the DOSS SoundBox (Amazon, #CommissionsEarned) for example) and have gone for a more rugged, outdoor and trendy kind of look.
Initial impressions though are that this is an excellent quality product. Even before I have streamed any music to the speaker, I can tell that the build quality is excellent, just by it's look and feel.
The speaker has a nice weight to it but not too heavy (weighs about 1.5 pounds) and doesn't feel cheap or flimsy in the slightest.
The speaker measures 6.5 x 2.4 x 4.4 inches, so about the length and width of a small tablet. It's not the smallest Bluetooth speaker I've ever seen and given that the speaker comes with a carry handle and a shoulder strap, it's clear that it's not designed to fit in your pocket or a ladies handbag.
It is however portable, so it could fit quite easily into a suitcase or a large bag like a beach bag or rucksack.
Now DOSS provided me with the Black model, but there is an army-green model (Amazon, #CommissionsEarned) available if you prefer.
Front of speaker
Looking at the front of the speaker you have a metal grille with a friendly fox's face drawn on the front of it, which certainly appeals to my daughter!
For the fox's eyes, you've got two directional LED lights which can be used in areas where there's low lighting levels or you can use them as disco lights of sort at a party (more on this later).
The metal grille feels solid, although it does feel ever so slightly 'spongy' at the bottom near the fox's nose, meaning that you can press the grille in a little and then it returns to its original position.
In terms of the speaker surround, this feels very robust indeed. It is made of black rubber with not only gives the product a 'premium' feel to it, it also makes it feel rugged and robust.
Top of speaker
On the top of the speaker is where the controls are. So you've got buttons for power, Bluetooth, lighting modes, play/pause and +/- for controlling the volume and skipping tracks (see controls below for more information on the functionality of each button.
Also on the top of the speaker are two metal loops which you can you use to attach the fabric handle which is great if you want to carry it by hand or you can use the longer (63 inch) strap which is ideal for putting over your shoulder.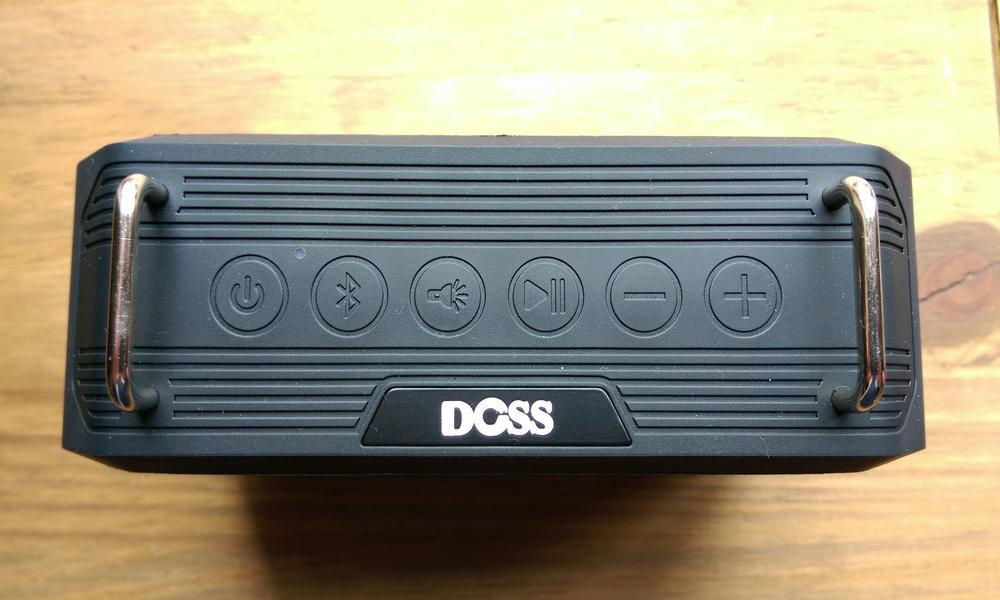 Sides of speaker
The sides of the speaker continue with the ruggedness theme, which again is the non-slip black rubber. 
There's also an a little fox emblem on each side which certainly adds a bit of style and adds to the speaker's uniqueness.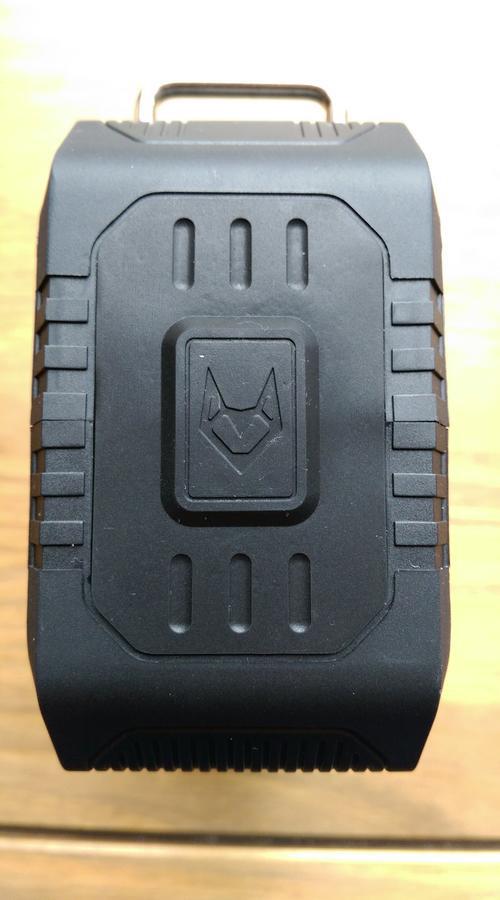 Rear of speaker
On the rear of the speaker, you have a 2.6 inch passive radiator.
If you're not sure what a passive radiator is, basically in a nutshell it's designed to increase the low frequency response (Bass) of the speaker. And with a decent passive radiator, you can actually achieve comparable performance characteristics of a much larger system.
Passive radiator are like normal speakers, but with the guts ripped out of them (i.e. without the magnet).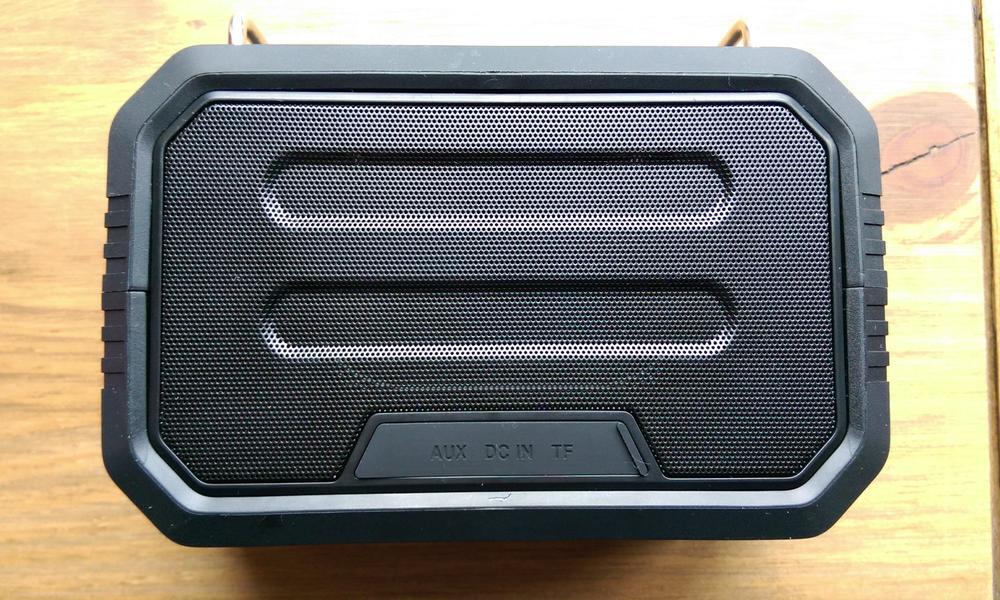 When the main driver speakers (i.e. the two at the front) begin to move, this causes internal air pressure fluctuations which in turn causes the passive radiator to begin moving forwards and backwards too as if it were a driven speaker.
Then when the passive radiator moves, it creates sounds frequencies just like the two driver speakers do and this is what gives the Traveller a ton of bass despite it's small size.
Just underneath the passive radiator is a rubber flap which you remove to access the USB charging port, the Micro SD card slot and the Auxiliary-in slot. Just remember to make sure that the flap is in place again when exposing the speaker to water.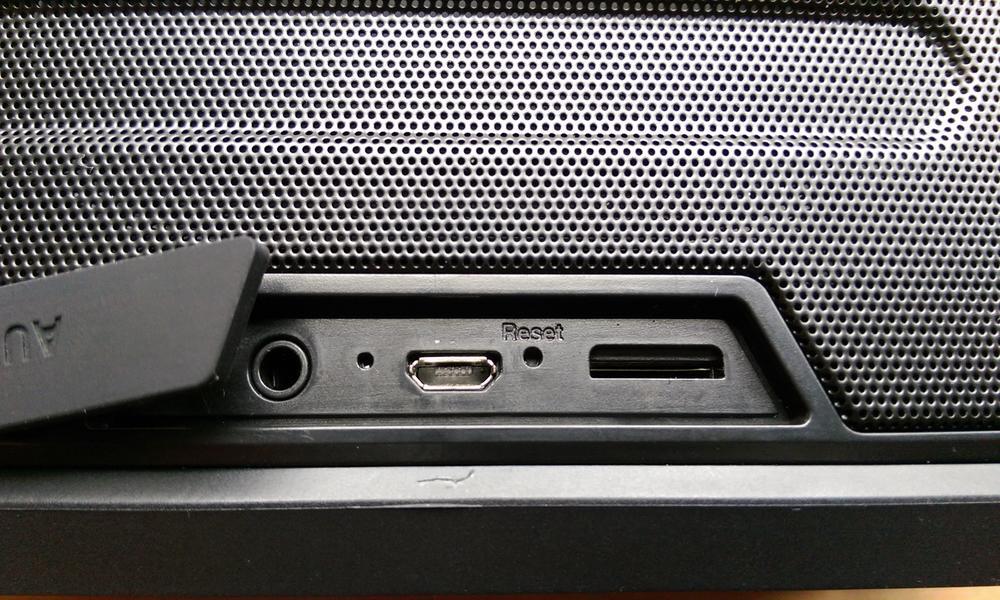 Bottom of speaker
On the bottom of the speaker there's the CE marking, model number and a few technical specs including the battery capacity and the output power.
There's also two mounting slots on the bottom of the speaker, so you could mount it to a tripod or even better, a Gorillapod speaker stand (Amazon, #CommissionsEarned).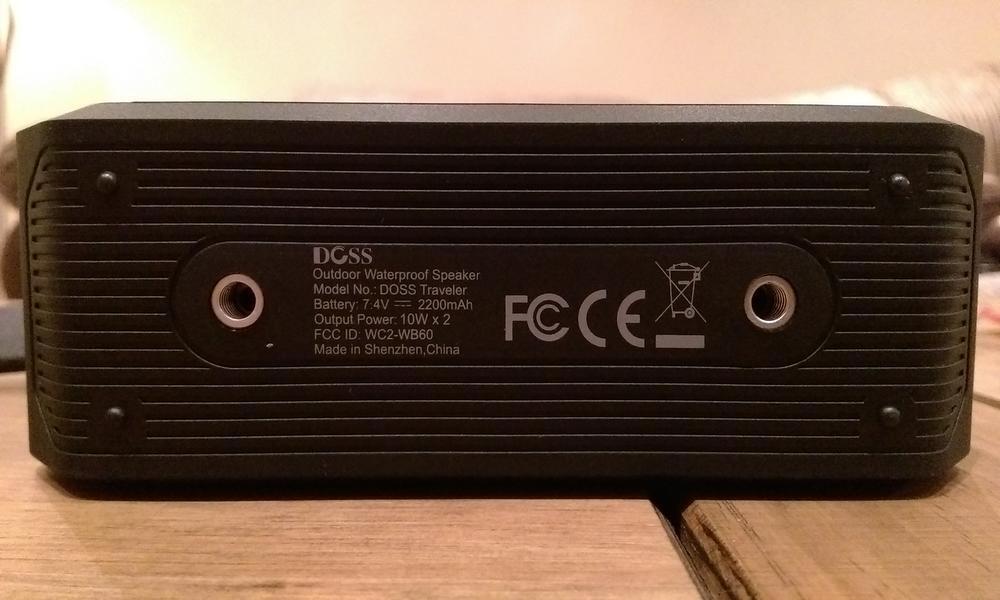 Controls
There are six buttons in total on the Traveler.  Let's look at each one in turn:
Power button: To turn the speaker on and off, simply press the power button for 3 seconds.
Bluetooth button/mode button: Short pressing this button allows you to alternate between Bluetooth, the Micro SD card and the Auxiliary-in connection.
Lighting button: Short pressing this button allows you to alternate between low brightness, medium brightness, high brightness and strobe lighting which can be used as an emergency distress signal (or as disco lights 😉 ).
Play/Pause button: In Bluetooth mode, you can press the play/pause button to play or pause your tunes, or if you're on a call, the play/pause button will answer or end the call.
Also in Bluetooth mode, if you long press the play/pause button for 3 seconds you can disconnect the speaker from your smartphone.  And if your phone starts to ring, then long pressing the play/pause button for 3 seconds will reject the call.
Finally, if you're playing MP3's from the Micro SD card, then the play/pause button will play or pause your tunes as you'd expect.
Volume up/down buttons: Short press of these buttons will turn the volume up or down.  A long press of the volume up button will skip to the next track and a long press of the volume down button will skip to the previous track.
Sound Quality
My initial thoughts before I started streaming music through this speaker, was that for a budget speaker, I was going to get "ok" kind of sound quality.
However, I was very pleasantly surprised.
The sound quality from this speaker is far from just "ok", it's excellent in my opinion.  Obviously it's never going to be as good as a full-on surround sound system, but I'm not sure that can even be achieved with such a small portable speaker.
But not only was the sound quality excellent, it was loud too.  A real powerhouse actually.
If you look at the specs, 10 Watts per speaker and a passive radiator doesn't exactly blow you away, but trust me when I say this, you won't be cranking it up to full volume.
And even when you crank up the volume, the sound quality doesn't waver.  There's no distortion and the sound remains crisp.
One thing I will say is that you do get decent amount of bass coming from the passive radiator.  So if like me you like Trance/Electronic music which often has a heavy baseline, then you'll appreciate the bass that this speaker has to offer.
Now although I don't think the bass is by any means overpowering, some people may prefer a little less bass.  Don't get me wrong though, the mids and highs are clearly present and most devices these days allow you to make equaliser adjustments so you could drop the low-end a little to compensate.
But bear in mind, I'm pretty sure that this speaker has been designed for certain kinds of music.
Features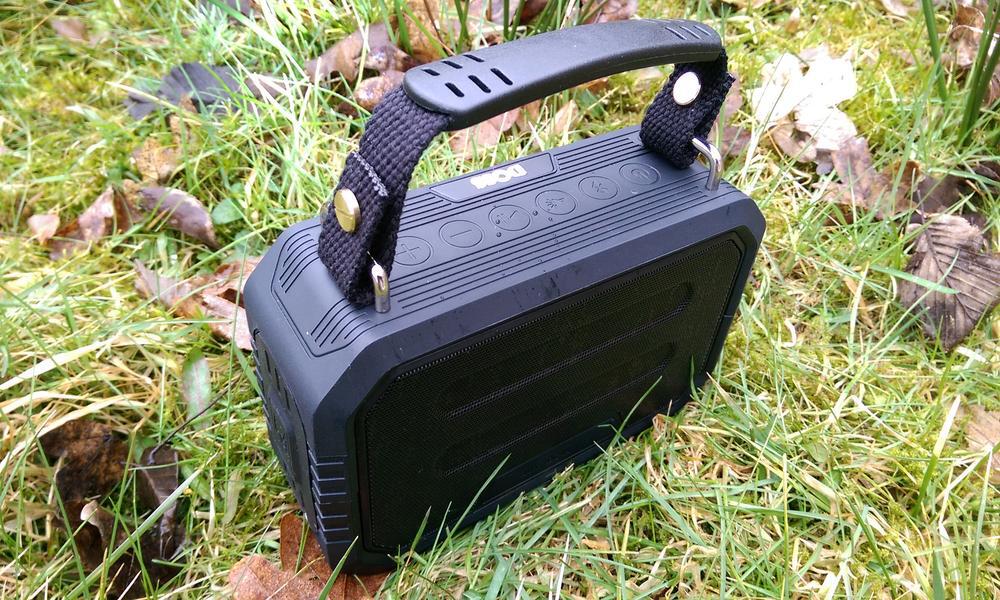 Lighting
One of the best things about this Bluetooth speaker is the dual LED lights on the front.  And let's be honest here, I haven't seen this on any other Bluetooth speaker on the market at the moment.
But by adding these lights on the front which are the 'fox's eyes', DOSS have really made an effort to make their product unique and stand out in this crowded market.
There's a few use cases for these lights. 
You can use them for your camping trips in poorly lit areas such as footpaths or fields where there isn't any lighting.  They would also be a good addition to a party or a BBQ and the LED lights are bright enough to illuminate decent portion of a patio or similar area.
Now the LED lights are directional, so the light won't be spread out as evenly as a lantern, but they are easily as capable as any headlamp or flashlight.
In total there are five lighting modes low brightness, medium brightness, high brightness and strobe (intermittent flashing).
The strobe lights are quite a nice feature to have in case you want to attract someones attention in an emergency or even add some disco lights to your party.
Portablility
The 'DOSS traveler' as you might expect given the name, is designed to be portable.
The speaker is equipped with a short handle which is about 11 inches.  This is perfect for carrying around on a normal day to day basis whilst on foot. 
But if you were to decide to take it on a cycle ride for example, or if you've got a bunch of camping gear to carry, then you might be better off with the long strap (63 inches) which you can put over your shoulder.
It could be quite handy too if you've got suitcase to drag around as it could free up your hands to carry something else.
Charging
Charging is done through the micro USB cable provided.  So you simply plug the micro USB connector into the USB socket on the back of the speaker and plug the other (larger) end of the USB cable into a PC, a wall adapter or a portable Power Bank.
To access the USB socket on the back of the speaker, there is a silicone flap which is easily lifted up to reveal not just the USB charging socket, but also a Micro SD card slot and an auxiliary-in slot so you can connect your older devices that don't support Bluetooth.
Once you plug the speaker in, it will begin to charge and the LED on the controls will turn to a steady red.  Once the charge is complete, the LED turns off fully.
Battery
The battery is Lithium-ion and rated at 2200mAh, which is a decent size battery.  It would be awesome if there was some sort of power-out connection so that you could charge your devices from it too.  I guess then it would be the Swiss Army Knife of Bluetooth speakers!
In total it takes about 3 hours to charge and DOSS have claimed that you can use the speaker for up to 12 hours on a single charge. 
On the whole, I found this to be true which is excellent, however I found that if I had the volume turned up and the flashlight was used, then the battery life was reduced somewhat to about 10 hours of use.
And this is inline with the guidelines in the user manual which states that "duration time may vary depending on the volume level used and usage patterns".
But this is still pretty good in my opinion given that you get a power output of 10 Watts per speaker!
Connectivity
The DOSS speaker uses Bluetooth 4.0 standard which is more energy efficient than previous generations of Bluetooth and allows you to connect instantly to previously paired devices.
The other connectivity options you have include a Micro SD card input to you can load MP3s on to it and play them through the speaker.
You also get an auxiliary-in slot so you can connect your older devices that don't support Bluetooth.
Durability
It's pretty obvious from the rubber surround that the DOSS Traveler (Amazon, #CommissionsEarned) is built for durability.  So you can rest assured that if you drop it then it's unlikely to cause any damage.
Obviously if you go crazy then I'm sure it can be damaged but through general use and the occasional mishap, I'm confident that this speaker will live to tell the tale.
In fact to show you how durable this speaker is, check out this video where the DOSS Traveler is being used to crack walnuts!
The DOSS Traveler also has a top notch rating of IPX67 which means it is protected against water and dust.
The IP Code or International Protection Marking basically classifies and rates the degree of protection from dust and water.
The actual rating is just 'IP' followed by two numbers and one or more optional characters.
The first number, which is rated on a scale of 0 to 6 is for dust exclusion.  Most devices are not tested for this and so if it isn't, an X is often used instead. However, it's pretty safe to assume that if a device has a reasonable level of waterproofing, then it's going to be fairly dust proof as well.
The second number is the water resistance rating and is rated on a scale of 0 to 7.
Normally you see ratings like IPX6 if it's not rated for dust (hence the X) and water resistant to level 6.  You also see ratings like IP67 to indicate that it has been tested for dust and water and rated 6 and 7 respectively.
So I'm a bit confused as to why the DOSS Traveler is rated at IPX67.  By the way, if you can explain this, please let me know in the comments.
Despite the confusion, I can safely say that the DOSS traveller is able to withstand getting wet and dirty without causing damage to any of the electronics inside.
This is a great feature to have in my opinion as you can use the DOSS Traveller on the side of the pool whilst listening to your favorite tunes 😉
Of course I had to test this feature out, so once I'd finished taking the pictures of the DOSS Traveler outside in the garden, I rinsed the Traveler under the tap and of course the speaker still worked as expected 🙂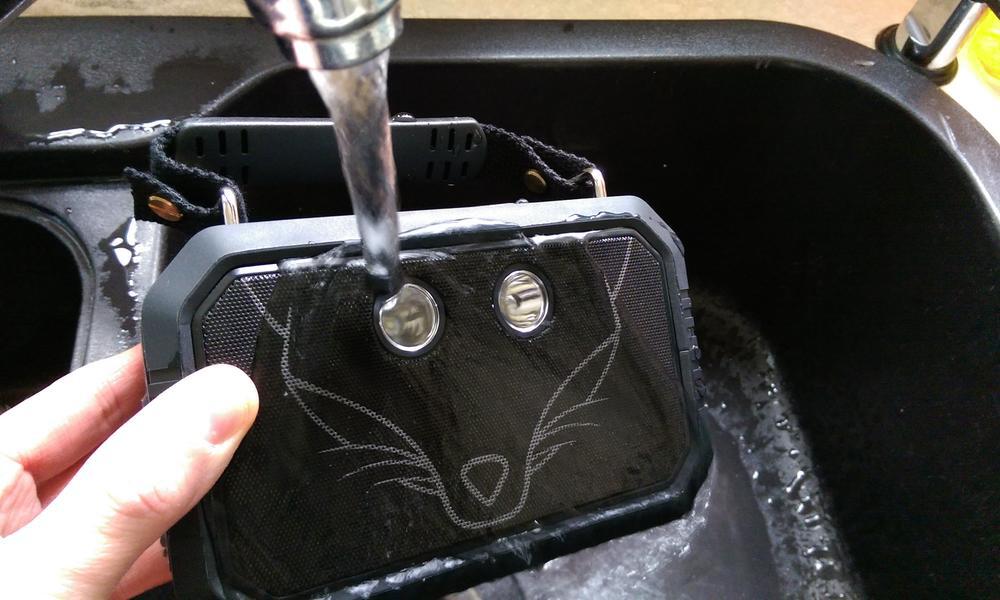 Also, check out the water test carried out by DOSS in the video below that proves the device's resistance to water:
Pairing the Speaker
Pairing the speaker is very straightforward.  With the speaker OFF and within a meter of your phone, you simply press and hold the power button for several seconds to turn it on. 
When the speaker is powered on, you'll hear a tone and a blue indicator LED will start flashing.
Next, head over to your phone and enable Bluetooth and select DOSS Traveler from the list of devices.
Once connected the LED will turn to a steady blue and your phone will confirm that the connection has been established.
Technical Details and Specs
| Bluetooth version | Output power | Input | Charging time | Working time | Weight | Water/Dust resistant |
| --- | --- | --- | --- | --- | --- | --- |
| Bluetooth V4.0+EDR | 10W x2 | DC 5V / 2A | About 3 hours | About 12 hours | 600g | IPX67 |
The Downsides
As with all products, there are downsides.  But with the DOSS Traveler (Amazon, #CommissionsEarned) it depends on what you want to use this speaker for as to whether or not you'll experience any downsides.
So for example, some may say that the speaker is a little bass heavy, but if you're going to be listening to dance music at a party or at the side of a pool, then this won't be an issue for you.
However, if you're thinking of listening to one of Beethoven's symphonies on this speaker, then it might not be the best choice for you.
I can't really think of any other downsides to be honest.  It's not the smallest Bluetooth speaker out there, but that's because of the large drivers and the large 2200mAh battery.
All in all though, the Traveler is very transportable with the carry handle and shoulder strap and would fit comfortably into a large bag.
Should you buy the DOSS Traveler? – Final verdict
There is no doubt in my mind that this is a great speaker.
The DOSS Traveler is really well built, rugged, yet it's quite trendy too and very easy to use – for kids and adults alike, with the buttons along the top which allow you to control everything from the volume to switching tracks and more.
The fox's face drawn on the front and the LED lights for eyes gives this speaker a unique feature and will definitely a hit with kids.
Because the speaker is ultra durable, it's perfect for taking on your holidays, camping, side of the pool – in fact virtually anywhere you can think of.
Having said that, the speaker is not for everyone.  It's designed for parting really and is best used with party type music (such as pop/dance/trance/electronic) and is very loud.  That being said, it doesn't distort even at max volume.
So in a nutshell, if you're looking for a speaker to take with you on your holidays, camping, or to the beach, then this speaker is perfect.  However if you want to listen to more mellow types of music, then you should check out the DOSS Touch (Amazon, #CommissionsEarned).
Don't take my word for it though, see what other people are saying about the DOSS Traveler here (Amazon, #CommissionsEarned)
And of course, you can check out the DOSS Traveler on Amazon here (#CommissionsEarned).