Disclosure: Bonkers About Tech is supported by its readers. When you purchase through links on our site, we may earn an affiliate commission. Thank you.
DOSS SoundBox XL
Many thanks goes to DOSS for sending this Bluetooth speaker for review.  Previously, I reviewed the DOSS Traveler which was an awesome Bluetooth speaker designed for the great outdoors, parties, by the poolside etc. 
This time, I'm reviewing the DOSS SoundBox XL which is designed more for indoor use or outdoor use at a party or a barbecue.  You can also click here to see even more reviews on Amazon.
If you check out my review of the DOSS Traveler, then you'll notice that it was a powerful speaker, given its compact size.  The total output of that speaker was 20W but the DOSS SoundBox XL has a little extra oomph and has an output of 32W which includes a 12W subwoofer!
So, I'm super excited to test this speaker and see what it's capable of!
If you want to find out how I got on with this speaker, then please read on.  I'll be looking at the design, build quality, features, sound quality and drawbacks (if any) that I encounter.
As always, this is a genuine hands-on review and a chance for me to share with you my personal experience of using this speaker.
Highlights and Features
Impressive sound with 2x10W drivers, a 12W subwoofer and 2 passive radiators!
Bluetooth 4.0 technology
DSP technology
Good battery life – 10 hours of playtime
Super easy to use
TF card to play music
Auxiliary-in cable for wired connections
Integrates with the Amazon Echo Dot (Amazon, #CommissionsEarned)
My Verdict
The DOSS SoundBox XL is assuming in terms of its looks but it is a speaker that punches way above its weight in terms of sound quality and offers fantastic value for money.
Who's it for?
You want a decent sounding Bluetooth speaker for your home without breaking the bank
You're looking for a speaker that gets loud without distortion so that everyone can hear the music at your party
You're looking for something that is low-key and blends in with its surroundings
Design and Build Quality
The SoundBox XL (Amazon, #CommissionsEarned) comes in a white box with a picture of the speaker on the front and a "cheat sheet" on the side listing the speaker's main features.
My first impressions of the SoundBox XL is that this is good, solid and professional looking speaker.  Looks-wise though, the speaker is a bit inconspicuous and it appears that DOSS have taken a bit more of a conservative approach, especially when compared to the trendy and rugged look of the DOSS Traveler (Amazon, #CommissionsEarned).
In terms of the actual build quality of this speaker, I can't fault it, it feels like a good quality, premium product, simply as that.  Granted, this speaker isn't rugged or water resistant, but that's not what it's designed for.  It's designed primarily for use within the home, parties, barbecues and small get-together's.
The speaker surround is made of matt-black plastic, but it's the type that tends to scratch easily, so you have to be careful when moving it around.  Other than that it feels very well-made, has a smooth finish and I have to say, I quite like the feel of it.
The speaker measures 11.8 x 2.6 x 5.2 inches and weighs in at just under 3.4 lbs, so this is quite a large Bluetooth speaker – hence the XL in the title.  So it's clearly designed to stay where it's put and not the sort of thing that you'd want to take camping or to the beach, but it's fine to move between rooms or outside if you're having a party.
Front of speaker
Looking at the front of the speaker, it looks fairly low-key and minimalist as I mentioned before.  So there's just an aluminium dotted grille which covers the two drivers and the subwoofer with a small DOSS logo at the bottom.
A couple of things that did stand out for me though.  The first is the shiny, piano black plastic that can be seen through the gap in between the grille and the speaker surround. 
The other thing is that the color of the metal grille, although aluminium, does has a slight carbon fibre look to it. 
Although these are small details, they do add flair to the look of the product.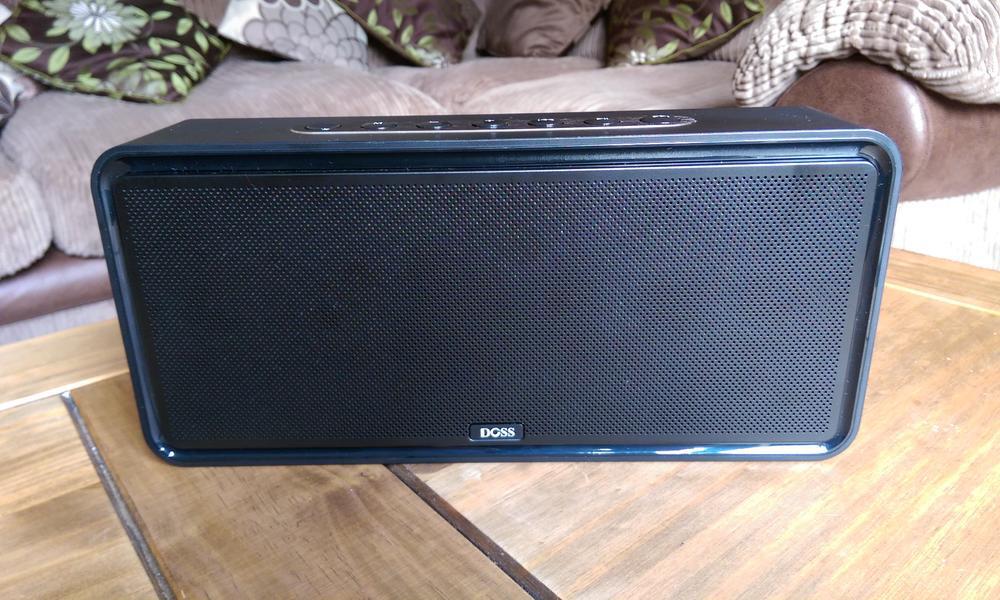 Top of speaker
On the top of the speaker there is a really nice piece of brushed aluminium encasing the seven control buttons.  The buttons themselves are nice and clicky with great tactile feedback, so you definitely know when they have been pressed.
Underneath the buttons, there are also four indicator LEDs to indicate the speaker's "mode" which I'll talk more about later.
It's nice to see actually that there are independent buttons to skip tracks rather than having to long press volume buttons which you see on most Bluetooth speakers.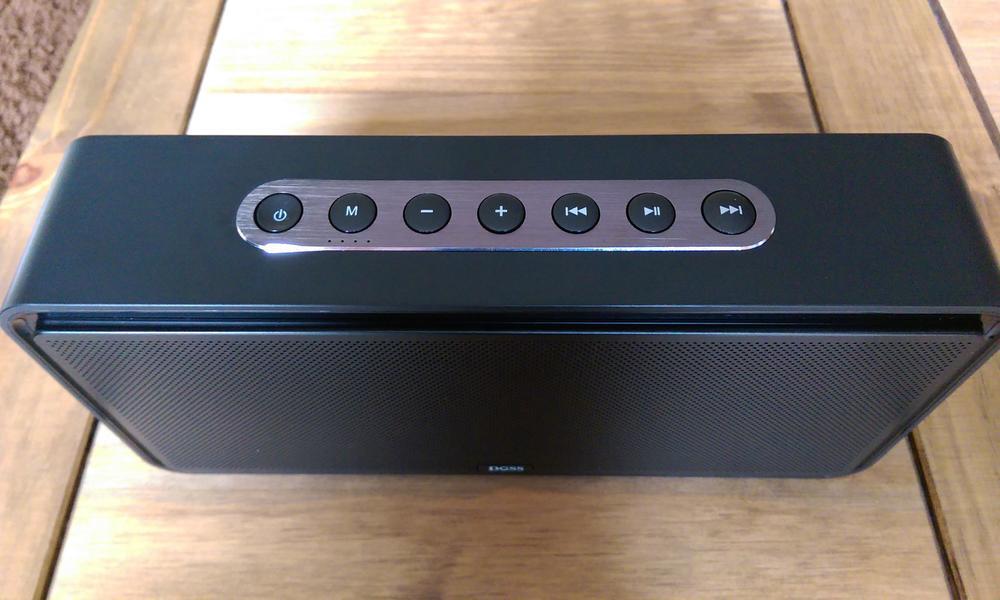 Rear of speaker
The rear of the speaker has all the basics that you need including a 12V 2.5A port, an Auxiliary-in slot and a TF Card slot.  There's also an LED to indicate when the speaker is charging.
Nothing extraordinary here, but everything is clearly labeled and straightforward.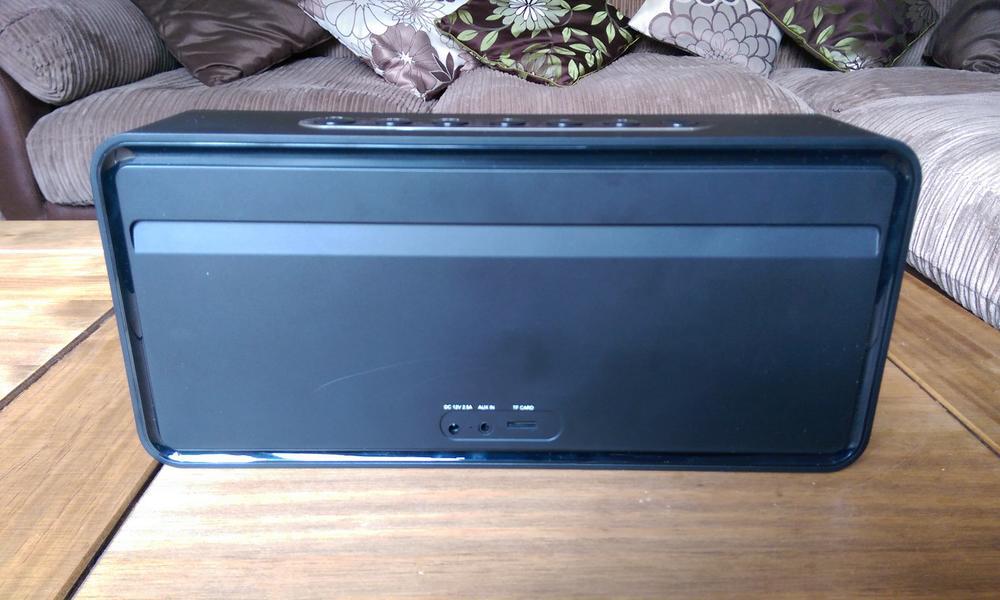 Bottom of speaker
On the bottom of the speaker there's the CE marking, model and a few technical specs including the battery capacity and the output power.
There's also four thin rubber pads to prevent scratching.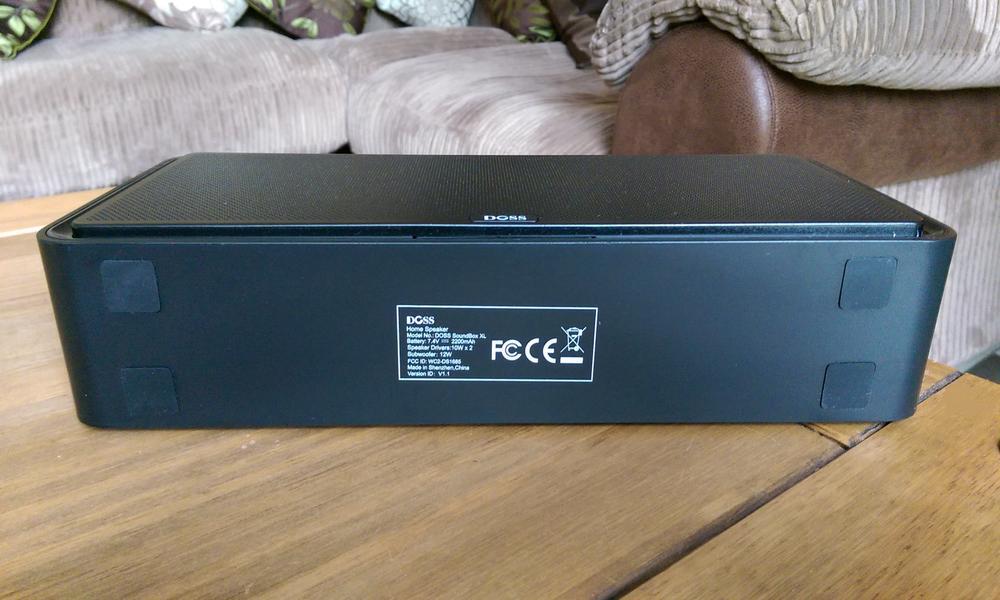 Sound Quality
Now this is where the SoundBox XL REALLY shines!
I'll get straight to the point here – the sound is actually quite amazing!  I streamed some old school Chesney Hawkes and Bon Jovi from YouTube and cranked up the volume, before being told to turn it down 🙁 and the sound was incredible!
The two 10W drivers, the 12W subwoofer and the two passive radiators kick out some serious volume whilst maintaining clear sound quality.
Granted, it doesn't sound as good as a full surround sound system which I have in my living room, but that's not really achievable with just a single speaker.
But let me tell you something, this speaker is LOUD.  I thought the DOSS Traveler was loud, but this speaker is even louder and will easily fill a large room.  In fact it's probably as loud as you would want a home Bluetooth speaker to be.
And even when you crank up the volume, the sound quality remains crisp throughout the full volume range and there's no distortion to speak at all.
Not only is it loud, but you do get quite a bit of bass coming from the 12W subwoofer and the two passive radiators.  So if like Trance/Electronic music which often has a heavy baseline, then you'll appreciate the bass that this speaker has to offer.
If you're the kind of person that doesn't like too much bass then you'll be pleased to know that the bass isn't overpowering by any means and seems to blend in well with higher frequencies.  Of course if you crank up the volume, you'll definitely know its there. 
Overall, the sound is well-rounded and the mids, highs and of course the lows are clearly present.  Given the price of this speaker, you really are getting a lot for your money here.
Charging/Battery
Charging is done through the power adapter provided.  The output is 12V DC at 2.5A and takes around 2-3 hours to charge but DOSS recommends charging the speaker for at least 12 hours the first time that you charge it.
Once you plug the speaker in, it will begin to charge and the battery indicator LED will turn to a steady red.  Once the charge is complete, the LED turns to a steady green.  You can of course keep it plugged in if you intend to keep it in the home.
The battery is Lithium-ion and rated at 2200mAh, which is a decent size battery.  It also happens to be the same capacity as the DOSS Traveler.
How long does it last?
Now DOSS claims the battery life to be about 10 hours of constant playback at 50% volume which is less than the Traveler for the same capacity battery, but of course this is to be expected as the speaker is a lot more powerful.
Play time of 10 hours for a speaker of this size is about right actually, but if you crank the volume up like I did then you're going to get a lot less than this.  Though to be fair, I haven't been playing the speaker at max volume for long since this speaker gets super loud.
In any case, if you're going to use the speaker indoors you can keep it plugged in and it's problem solved, but if you plan to use it outdoors for your barbecues or parties, then it's certainly not going to last the full 10 hours.
Connectivity
The DOSS speaker uses Bluetooth 4.0 standard which allows you to sync most devices, be it a smartphone or a tablet.
Bluetooth 4.0 is also more energy efficient than previous generations of Bluetooth and allows you to connect instantly to previously paired devices.
If you decide you don't want to stream your music via Bluetooth with this speaker, you have got a couple more options.  You can either insert a TF card and play your MP3s or you can hard wire your phone or tablet to the speaker using the auxiliary-in cable which is provided.
This is also a great option if any of your older devices don't support Bluetooth.
So there's some good options here and multiple ways of playing your music through the speaker.
Pairing the Speaker
Pairing the speaker is very straightforward.  With the speaker OFF and within a meter of your phone, you simply press and hold the power button for two seconds to turn it on. 
When the speaker is powered on, you'll hear a welcome tone and the first blue indicator LED will start flashing.
Next, head over to your phone and enable Bluetooth and select DOSS SoundBox XL from the list of devices.
Once connected the LED will turn to a steady blue and your phone will confirm that the connection has been established.
Hardware
In terms of the hardware, the SoundBox XL has quite a lot of kit built in to it that provides plenty of power to fill most decent sized rooms.
Inside the SoundBox XL you'll find two 10W drivers and a 12W subwoofer which provides you with a decent bass.  In addition to the subwoofer, you also get two passive radiators which further enhances the sound quality.
If you're not sure what a passive radiator is, basically in a nutshell it's designed to increase the low frequency response (bass) of the speaker. And with a decent passive radiator, you can actually achieve comparable performance characteristics of a much larger system.
Passive radiators are like normal speakers, but with the guts ripped out of them (i.e. without the magnet).
When the main driver speakers (i.e. the two at the front) begin to move, this causes internal air pressure fluctuations which in turn causes the passive radiator to begin moving forwards and backwards too as if it were a driven speaker.
When the passive radiator moves, it creates sound frequencies just like the two driver speakers do and gives the speaker an extra boost.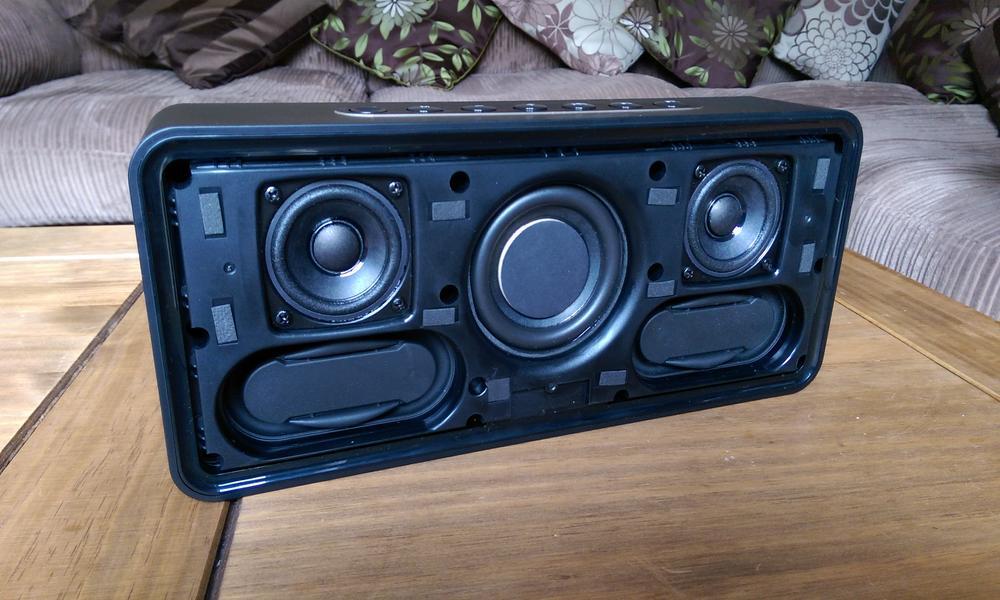 Controls
There are seven buttons in total on the SoundBox XL.  Let's look at each one in turn:
Power button: Simply long press this button to turn the speaker on and off.
Mode switch: This button has the letter 'M' on it (for mode if you haven't guess already) which allows you to switch between Bluetooth mode, AUX mode, TF card mode and the battery status.
Underneath the mode switch, there are four indicator LEDs which light up to indicate the selected mode (see below).
Volume up/down: Short pressing these buttons will turn the volume up or down. 
Track back/forward: Short pressing these buttons will skip to the previous and next tracks respectively. 
Play/pause: Short pressing this button will stop the music and pressing the button again will allow it to continue.  Technically, this doesn't "pause" the music if you're streaming from your phone (from YouTube for example) but stops/starts the music playing through the speaker, but you get the idea 😉
Indicator LEDs
There are four indicator LEDs that are present just below the "M" button and they are there to indicate what mode the speaker is in.
When the speaker is turned on for the first time, it enters into "pairing mode" and the first LED starts flashing.  Then, once you have paired the device, the LED turns to a steady blue.
The second LED becomes a steady red to when the speaker mode is switched to use AUX-in and the third LED becomes a steady white when the mode is switched to use the TF card successfully.
The fourth LED simply flashes red when the battery is low.
DSP Technology
The DOSS SoundBox XL has what is known as a Digital Signal Processor.  If you're unaware, a Digital Signal Processor is basically a microprocessor, similar to the one in your laptop, phone or tablet but with a different architecture which is specialized and optimized for processing digital signals in real-time.
Digital Signal Processors can process any digital signal and have applications in audio signal processing, audio and video compression, speech recognition and digital image processing.
The DSP in the SoundBox XL is obviously used for processing audio signals.  It's job is to take the raw audio signals from the Bluetooth stream and improve the signal so that you get clearer sound when it finally reaches the speaker.
Digital Signal Processing is outside the scope of this review, but if you want to find out more, then this article explains it pretty well.
Technical Details and Specs
| Bluetooth Version | Bluetooth Range | Audio Input | Power Input | Output Power | Charging Time | Play Time | Weight | Frequency Response | Signal to Noise Ratio (SNR) |
| --- | --- | --- | --- | --- | --- | --- | --- | --- | --- |
| Bluetooth V4.0+EDR | 10m (33 Feet) | Bluetooth, 3.5mm, TF card | DC 12V / 2.5A | 32W | 2 to 3 hours | 10 hours | 3.46lbs | 40Hz-20kHz | ≥70db |
The Downsides
Let's face it, there's no perfect product and there are a couple of drawbacks.
Perhaps the one thing that is missing from this speaker is the ability to connect to other Bluetooth speakers and create a surround sound system.  So you can only use this speaker on its own.  If this feature was added, it would sure be a welcome addition.
I guess the only other downside to this speaker is that in terms of the design I think it's a bit plain, but that's my personal opinion.  Others however might favor its minimalist look and enjoy the fact that it easily blends into the background, perhaps next to a living room lamp or some other furniture or gadget.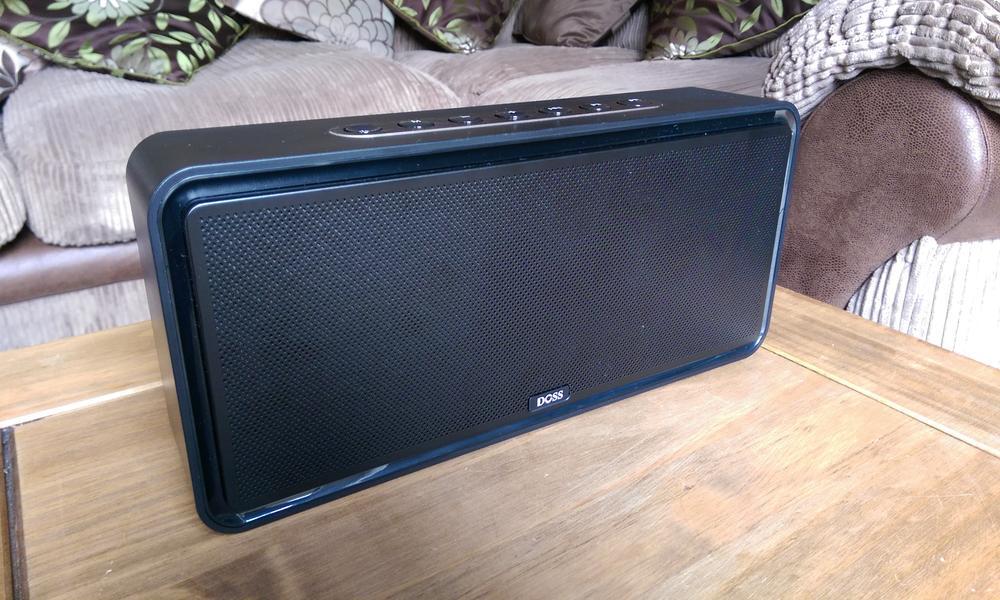 Should you buy the DOSS Traveler? – Final verdict
If you're looking for a cost-effective, Bluetooth speaker for your home, then the SoundBox XL (Amazon, #CommissionsEarned) could be exactly what you're looking for.  If you're big on travelling and want a speaker that you can take anywhere, then you should consider the DOSS Traveler (see my review of the DOSS Traveler here).
Alternatively, if you don't fall into either of these camps, then check out the smaller sibling of the SoundBox XL which is the SoundBox xs (Amazon, #CommissionsEarned).
Overall, I think the SoundBox XL is a really high-quality, yet affordable Bluetooth speaker.  It's designed for the home, but could equally be used at parties, barbecues and other social gatherings.
And although I have a few reservations in terms of the design of the speaker, the speaker immediately revealed its purpose when played.
For those on the fence, know this:  You won't be disappointed with the SoundBox XL.  As a standalone speaker, it's great, not only from a hardware and sound quality point of view, but from its price point too.  It's just a shame you can't pair it with other speakers and then you'd be able to fill an even bigger room!
Click here (Amazon, #CommissionsEarned) to buy the DOSS SoundBox XL on Amazon.